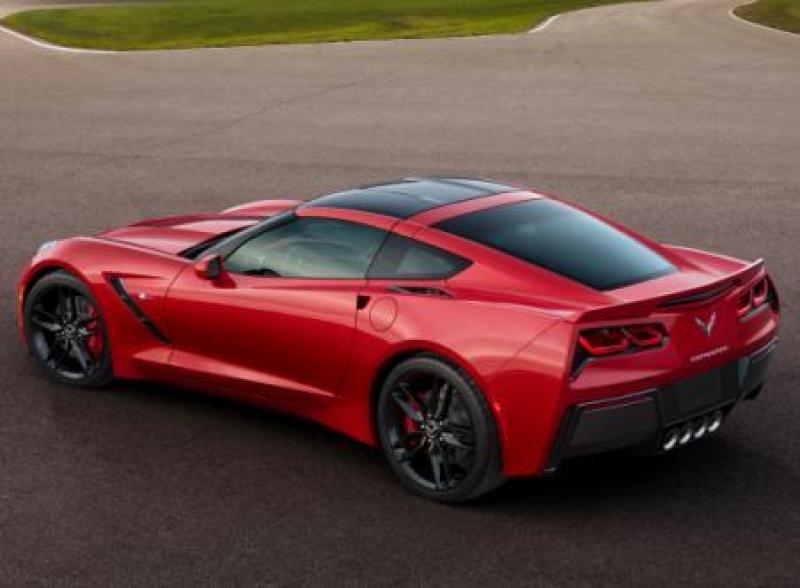 It was difficult to decide where to start this list, because everything about this car is brand new.
I'll start with what's known as the heart of a sportscar - the engine:
1.) 450 horsepower and 450 foot- pounds of torque.
2.) 6.2 liter displacement remains, it's still a small block V8.
3.) Pushrods are here to stay. Chevrolet LT1 is still an overhead valve (OHV) engine.
4.) Direct injection for considerably better fuel economy.
5.) Continuously variable valve timing
6.) Variable displacement. LT1 engine can switch off 4 of it's 8 cylinders while cruising at constant speed or braking. This also contributes to better fuel efficiency.
With every new re-design we expect a revolutionized or evolved exterior design. With C7 it's a mix of both - the overall proportions are similar to the previous generation. Details, however reveal a significant departure from the C6.
7.) Curb weight of ??? ponds / ??? kg - (yet to be announced, will be updated as soon as announced)
8.) Every exterior panel as well as the aluminium frame is brand new design.
9.) No more round taillights - replaced with more rectangular, Camaro-like LED clusters.
10.) Narrow, vertically elongated headlights, reminiscent of 2013 Chrysler Viper SRT-10.
11.) Carbon fiber bonnet and roof for lower center of gravity.
12.) Race car inspired bonnet hot air exhaust vent.
13.) Despite the name, C7 does not have a split rear window
C6 Corvette was often criticized for it's less-than-spectacular interior with cheap feeling hard plastics and dated electronics.
It was often used as an excuse for relegating Corvette below it's European rivals in magazine comparison tests.
This was especially true in European car media, so mesmerized by Clarksonian anti-Americanism, where C6 reviews often summed-up the interior in just two words - "cheap" and "plasticky".
With C7, General Motors decided that "enough is enough" and completely re-designed the interior with quality materials, leaving the "cheap & plasticky" crowd with not a single square inch of hard plastic to start the argument for.
14.) Complete interior re-design with expensive materials. Every contact surface is either leather, aluminium, carbon fiber or soft-to-touch plastic.
15.) Improved seats with much better lateral support.
16.) Electric steering. Corvette engineers are promising the driving enthusiast that their steer-by-wire system is more robust and will provide up to 5 times the feedback currently available in similar systems of competing brands.
17.) Tremec 7 speed manual transmission with automatic rev-matching, as well as improved "Hydra-Matic" automatic transmission with paddle shifters.
18.) Leaf springs. Yes, 2014 Corvette still rides on leaf springs. Not the sort you've seen on trucks, but leaf springs none the less.
19.) From launch C7 will be available with "Z51 Performance Package" which includes track-day oriented goodies like electronic limited slip differential, dry sump oiling system and aerodynamic updates.
20.) C7 goes on sale in the third quarter of 2013. No word on pricing. (will be included when available)
Despite the very different rear and drastically improved interior, C7 is more of an evolution than revolution - it still retains the basic layout, power-train design and construction materials of C6 and C5 generations.
Still, improvements are much deeper than the new body panels and upmarket interior. With a lighter and stiffer body, more responsive and torque-rich engine, better electronic gadgetry and more precise steering, C7 will surely beat every C6 lap record there is.
And it's likely that later, more powerful iterations of C7 will have the same impact on sports and supercar market that C6 Z06 did back in 2005 when it beat much more expensive rivals like Lamborghini Gallardo or Ferrari 430