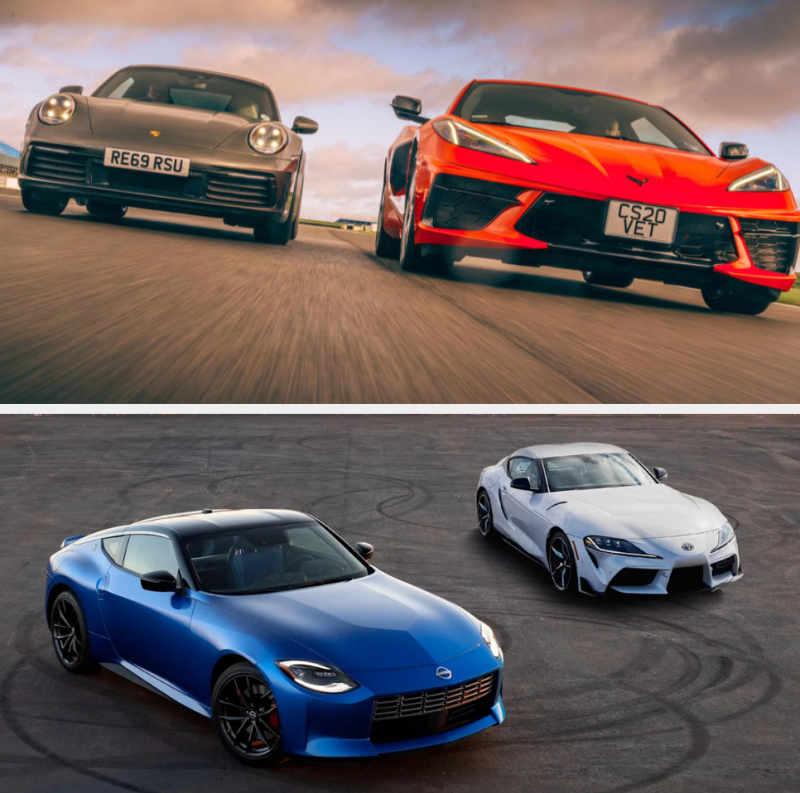 There are four categories that properly define sports cars.
The first and top category is steakhouse sports cars. This is where you include all the fancy-schmancy exotic luxury cars that 99% of this site's audience are never going to afford.
The second category is Cheesecake Factory and Sushi Restaurant sports cars, where you have quasi-exotic cars that are rare but quite affordable by the middle-class.
The third category is McDonald's sports cars, and this is where all the expensive yet commonplace status symbol sports cars belong.
The fourth category is Chick-fil-A sports cars, and personally, this is my favorite category because this is like the McDonald's sports car category, but instead of simply expensive cars, you have more pure, fun factor type of cars that offer the same (or better) performance levels at a lower starting price.
The third and fourth categories can get a little complicated, but I will make them less so. McDonald's is technically cheaper, but they offer a value menu, whereas Chick-fil-A doesn't. Generally, for the same price, or even three-fourths of that of a McDonald's item, the food quality is much better due to instant preparation (and Chick-fil-A has much more effective customer service). Another thing to consider is Chick-fil-A is not as globally recognized as McDonald's is.
Porsche's sports cars are the 718 and 911, and Chevrolet's sports car is the Corvette. The Corvette starts at the same price as the 718, but offers the same (both straight-line and track) performance as the 911. Performance and fuel economy are the equivalent to calories in a meal (which especially includes fats and sugars). To compare, McDonald's flagship meal - the Big Mac Combo - starts at $5.99 with 1080 calories; Chick-fil-A's flagship meal - the Chicken Sandwich Combo - starts at $5.95 with 990 calories. McDonald's also has a Crispy Chicken Sandwich Combo with the same 990 calories, but it starts at a whopping $7.99!
In that same essense, the 718/911 twins are like McDonald's. The Corvette is a niche product, like Chick-fil-A; instead of processed corn syrup, you have raw protein (muscle).
The Nissan Z and Toyota GR Supra officially compete in the mid-level sports car segment, but they're not really in the same league, just like the Chevy Corvette and Porsche 911 aren't in the same league. The Z will start at a higher price than the GR Supra's little brother, the GR 86, but only barely (if you think about it, the performance differences between Z and 86 are HUGE).
TO SUMMARIZE:
Steakhouse sports cars - Ferrari, Lamborghini, McLaren, most Aston Martin models, Ford GT, Maserati (particularly the MC12 and MC20 models), whatever other extremely high value "super/hyper/mega/ultra"[car] thing is out there
Cheesecake Factory sports cars - Lotus, Nissan GT-R, Honda/Acura NSX, Aston Martin Vantage, Audi R8
McDonald's sports cars - BMW Z4/M850i/M8 models and Toyota Supra, Porsche 718 and 911, Mercedes-AMG SL and GT models, etc. They're status symbols, ultra-trendy, Twitter-popular, etc.
Chick-fil-A sports cars: (see below)
Alpha: Chevrolet Corvette, Dodge Viper
Sigma: Jaguar F-Type - this one doesn't really follow its own rules, let alone this segment's... the P450 only barely starts at more than a Corvette, the 'R' starts at the same price as a fully loaded Z51 or a base Z06
Beta: Mazda MX-5 Miata, Nissan Z, Toyota GR86 (and its Subaru BRZ/Scion FR-S stablemates)
Generally, the CFA sports cars are cheaper, but their fun factors are MUCH higher than those of the MickyDee's sports cars!
If VW made a Karmann Ghia with 718 underpinnings, a standard 911 Carrera GTS engine and an optional R8 V10 Performance engine, it'll be a monster in the CFA segment. And unlike the 911, the Ghia will be a REAL (serious!) Corvette competitor.