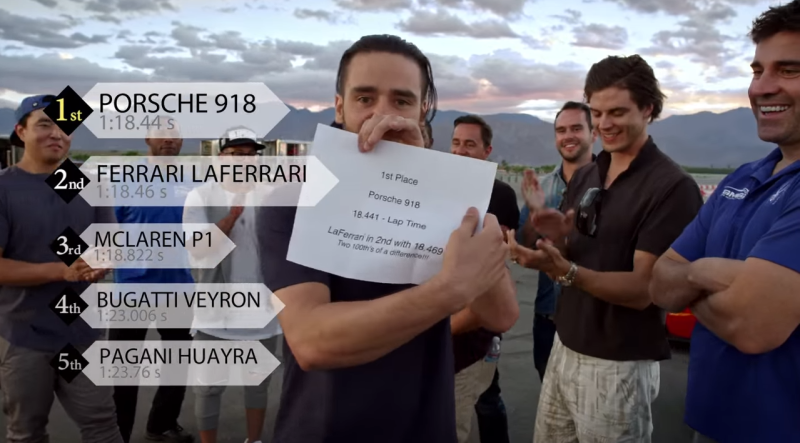 Hybrid hypercar comparisons, once viewed as nearly impossible to make, are becoming almost commonplace. Just yesterday, independed British motoring journalist Chris Harris published his version of "hybrid hypercar" test, following a similar test by UK supercar owners club "Supercar Driver", published a month ago.
Today there is yet another test, this time from United States, and, in addition to the usual suspects - Porsche 918 Spyder, Ferrari LaFerrari and McLaren P1, it also involves two extra combatants - Bugatti Veyron Supersport and Pagani Huayra to make it a 5-way track and dragracing competition.
This test, called "Hyper 5", was realization of a dream by American entrepreneur Alejandro Salomon. Most of the cars in this test he owns himself. Track driving duties he outsourced to James Sofronas - racing driver and president of race car engineering company GMG Racing, which, curiously, specializes in Porsche racing cars.
Hyper 5 was hosted by Thermal Club Raceway in Coachella Valley, Southern California. Needless to say, we have a new road car record for this track.
Click here to watch the Part 1, Part 2 and Part 3 of the Hyper 5. Here are the laptimes: