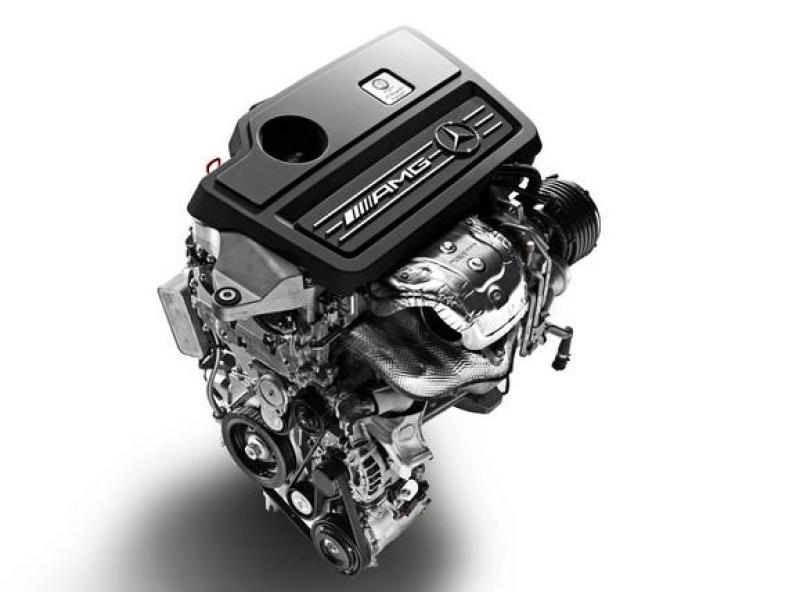 Could a Lamborghini Countach or Ferrari F355 owner in 80s and 90s predict that in 2013 there will be a family hatchback with a 2 liter engine bringing as much power and torque as a V12 or V8 supercar?
Mercedes new A45 AMG and CLA45 AMG A-class hatchback and saloon feature a brand new four cylinder engine by Mercedes AMG. It is based on 2 liter 211 horsepower M270, used in regular A250. According to AMG, the development of M133 was also greatly influenced by lessons learned in developing the 6.2 M156 and AMG's big V8 twin turbo engine the M157 5.5.
What makes this engine special and worthy of special attention, is the fact that there is no other 2 liter production engine in the world, which can beat the M133's record breaking 360 metric horsepower and 450 Nm of torque.
Not too long ago, this kind of power could only be expected from hard edged street racers like the EVO FQ400. Mercedes A45 and CLA45 AMG bring the same level of engine performance straight from production line, and with no turbo lag, poor economy, frequent maintenance or other drawbacks usually associated with high boost engines.
In fact, the only drawback I can think of is the 4 cylinder noise. As far as I can remember, there has never been an AMG 4 cylinder. AMG cars have always been as much about barking as they were about biting. A turbo four with modern day emissions and noise cancellation will never "bark" like some of the best sounding four cylinders (think E30 M3), not to mention AMG's V8s or V12s.
I also don't particularly like AMG's naming scheme which has lost all relevance to physical properties of the engine. AMG used to use numbers to represent engine displacement. This relationship was lost when Mercedes acquired AMG and messed up their own naming scheme, and decided to spread their new naming philosophy to AMG.
I would prefer if this A class would be called "A20 AMG" and "CLA20 AMG". But I guess Mercedes figured that "20" would be too small of a number and certain customers that don't know much about AMG or cars in general, would figure that 20AMG would be only one third as much of an AMG then a 63.
And there is another group of people that just love everything big, including big numbers. That's why Mercedes S500 in USA is called S550, for example. Not sure how this audience will react to a small car with relatively small engine like the A45. Regardless how fast it is.