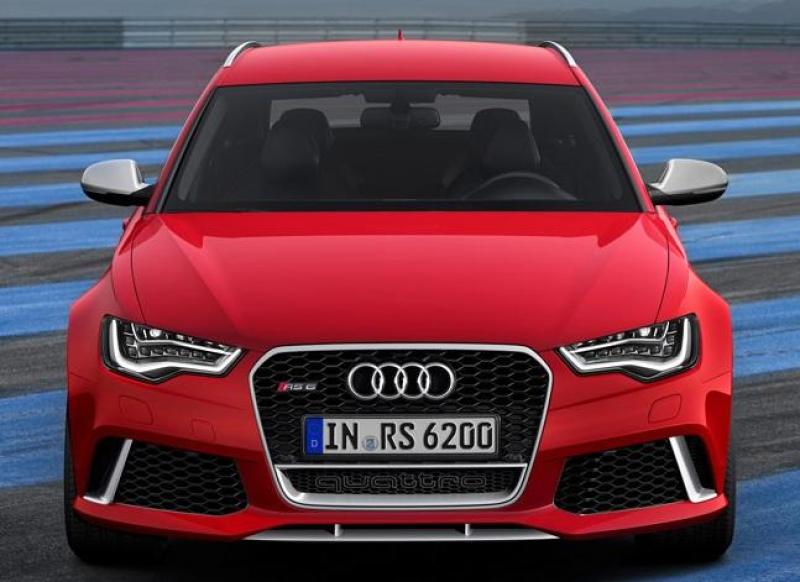 In typical Audi tradition, it's the wagon or "avant" version RS that is introduced first, before the RS6 sedan.
In very non-typical manner for Audi, this generation RS6 won't come with any power increase. In fact, it will have 20 hp less than the outgoing RS6.
As expected, the engine will be the same 4 litre twin turbo V8 unit that Audi use in S6 and S8, and Bentley have adopted for Continental GT.
In RS6 trim this engine will produce 560 metric horsepower and 700 Nm of torque at very low 1750 rpm. The latter figure is actually increase by 50 Nm, compared to the outgoing V10.
While less power is never good news, more miles per gallon always are, even for a performance oriented cars like RS6 or Bentley Continental. Increase in fuel economy is actually quite dramatic - Audi press release suggests 40%, according to European testing cycle.
Downsizing from the irrationally enormous V10 bi-turbo to a much more compact V8 also cuts a lot of weight. Outgoing RS6 was notorious for being a very heavy car for it's size and wasn't breaking any acceleration records even with turbo boost cranked up to 700+ horsepower.
This generation Avant is full 100 kilograms lighter which contributes to a 0 - 100 km/h time of 3.9 seconds. This is also in part due to more efficient powertrain with very responsive twin-scroll turbochargers and new 8 speed tiptronic transmission.
While none of the super sedans - German or American have reached the 600 horsepower milestone yet, both BMW M5 and the new RS6 are considerably faster than previous generations while, at the same time, consume and pollute much less. In this age of green and global warming, I think it's a happy compromise.