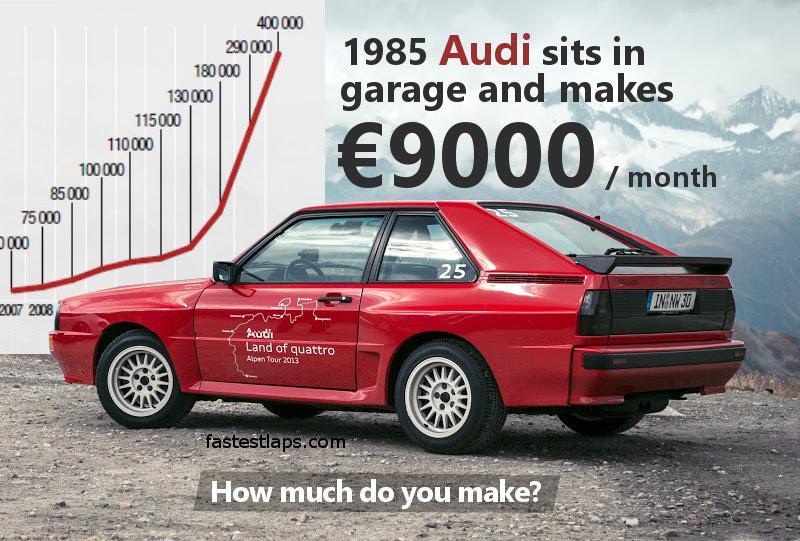 Used car prices have risen so much, that it really is starting to look like a "big, fat, ugly, bubble". And yes, I lower myself to using "Trump-lingo" - desperate times call for desperate measures.
Let's look at 10 year price history of 1985 Sport Quattro - the original short wheelbase 4x4 sports coupe from Audi.
Limited production car like this with Group B pedigree was never going to be cheap. In 2007 buyer in Germany would pay approximately €60,000 ($80,000) for a good, original Sport Quattro - respectable money for 22 year old Audi and enough to buy a brand new BMW M3.
According to Auto Motor und Sport, today you would have to spend nearly half a million US dollars for the same Audi - that's approaching 700% increase since 2007 and almost bitcoin-like 120% spike since 2014.
If you own classic cars or trade in high value used cars, you must have done really well. For the rest of us it is just more bad news.
When 1980s Audi can sit in garage and generate more money in appreciation then you can generate working you heart out 9 to 5 every day, that's discouraging and enraging.
For average millennial there is almost no chance of becoming a home owner in United States or western Europe where property prices have diverged wildly from average income of working class. You cannot expect to become a home owner if you do well in school and find a good paying job. Property ownership is reserved for born-rich and few lucky ones who start successful business.
Soon same will apply to cars - it will be privilege to own a decent car. You can argue that this already has happened as the idea of buying a new car straight from showroom already seems far-fetched for most in the young working class, including those in highest paying professions.
Used car market always was the equalizer - it allowed people of modest means to still have nice personal transportation - just few years older and without latest "bells and whistles".
I am afraid this is about to change, and average-to-low income population will be restricted to trains, buses and dystopian, self-driving public drones.