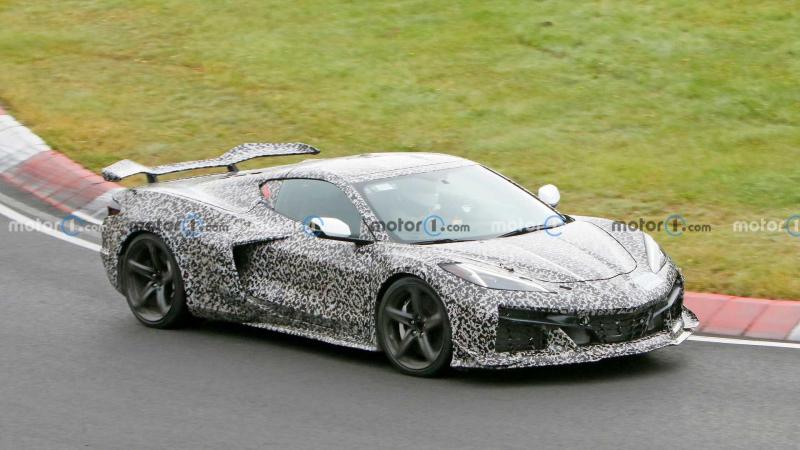 So the reveal date of the Corvette C8 Z06 is drawing near and as such, we're seeing more mules etc testing with tight camo wrap. Spy photos and videos revealed a few things.
Two different rim (design and material) options: a carbon fibre set and a magnesium set. Rim design options are a 5-spoke rim set (that we've seen before) and a 14-spoke rim set (also that we've seen before).
Two different aero packages:
a. One I'd just call the stage 3 aero kit: larger front splitter, front canards/diveplains, rear wing (remeniscent of what a Corvette C7 Z06's Z07 pkg spoiler would look like if it were a wing instead), bigger front and rear carbon ceramic breaks (in the front at least), Michelin Pilot Sport Cup 2 R tires, and a set of carbon fibre rims.
b. One I'd call a stage 2 aero kit (I'm not sure if there's gonna be a lower variant than this one but we'll see). : smaller front splitter (seems to be about the size of the Stingray Z51's), no diveplains, rear spoiler (that seems to be almost the same as the Corvette C7 Z06's Z07 pkg spoiler/wickerbill.), smaller front carbon ceramic breaks, Michelin Pilot Sport cup 2 R tires, and a set of magnesium rims.
Note: When spotted testing at the Nürburgring, the carbon fibre rims were not found on either "model". The 'stage 3 aero kit' version however was spotted on a public road with the 5-spoke carbon rims. (Again, it wore 5 spoke magnesium rims when spotted at the Nürburgring). Everything else applies. Also, they both had the same side skirt, but it was smaller and less dramatic even than the base model's "ground effects" package.
Centre exit exhausts. Both models were seen only with quad centre exit exhausts (like the previous generation, the c7)
Smaller side vents in the rear, but an additional vent on each side.
Larger side air intake and more open front "grille" (where plastic would be on the base model.) Also notable, is that the front on the 'stage 3 aero kit' is more open than on the 'stage 2 aero kit'.
Possibly slightly redesigned rear license plate area.
Rear lights are red as opposed to the white-transparent look of the C7 Z06, (and I think that would be the case for the production car as the c8.r also has the red lights).
Front blades (that were inserted last minute for pedestrian safety on the base model) are now more angular and have one continuous line for each side of the front (unlike the broken nature of the Stingray's). The whole front has design elements from the c8.r and the c8 stingray, Both of which have been modified and made uniquely Z06.
There's still a wrap covering the glass of the engine bay so you can't see what's underneath, however you can hear it, and lemme tell ya! It does not disapoint! (Unless you're me and are dis-satisfied with everything). Simply put, if you've listened to a ferrari 458 italia without aftermarket exhausts, you've pretty much heard the new Z06. There is still a little bit of C8 Stingray presence tho. My personal only issue with it is that it isn't as loud as I'd like it to, and it sounds a bit more Billie Eilish than Michael Jackson. More soft and mellow singing than sweat but radical screaming. (I'd like more something like a c7 zr1 or c6 zr1 sound).
|
|
|
What about that reveal date I talked about earlier? Check 10/26/2021.
(October 26 2021 for those of you who... idk)
|
|
|
|
On another note, the corvette c8 E-ray has been spotted (well, what we think to be the E-ray). It looks identical to the stage 2 aero kit Z06 except it has a slightly smaller spoiler and corner exit exhausts (the same as the ones seen on the c8 stingray). It has been seen testing against the Acura NSX and a video surfaced of it running with no engine/exhaust note whatsoever.
Estimated specs,
5.5l flat plane crank V8,
625hp (guestimate based on a post @corvette made on Instagram), 470lb-ft