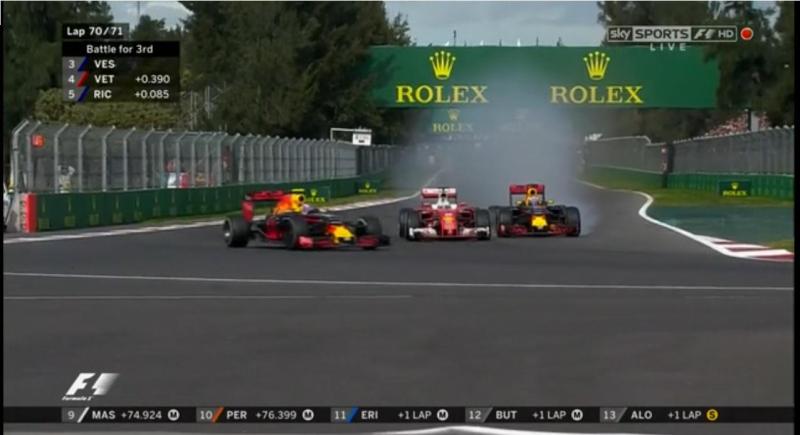 Just when you think Formula 1 is never going to match MotoGP in drama and unpredictability, you get a race like this - the Grand Prix of Mexico 2016.
From the large crowds and filled grandstands to Sebastian Vettel dropping the F-bomb dozens of times over the team radio (even towards race director Charlie Whiting), to 3rd place trophy changing hands twice after finish - first Max Verstappen then Sebastian Vettel and, finally, Daniel Ricciardo.
What impressed me most was not the drama, accusations and antics of the drivers, but rather the speed that late 2016 Formula 1 cars can now generate. Williams Mercedes driver Valtteri Bottas came within 0.1 kph of beating all time speed record for a Formula 1 race, which was 372.6 kph / 231 mph for Juan Pablo Montoya in 2005 Italian Grand Prix in Monza.
This comes in the same season that MotoGP Ducati team managed to indeed set a new 2 wheel racing speed record - 354.9 kph.
I haven't looked at speed trap data for other drivers, but I assume this was not a deliberate attempt at speed records for the sake of speed records. Had team Williams known they would get so close, they could have instructed the driver to deliberately brake later to get the extra publicity which certainly wouldn't hurt the team and sponsors, even if this would end up in flat-spotted tyres or a little excursion on the grass.
Next year new regulations come in play for Formula 1 and these will, no doubt, make cars much faster in absolute terms. It is likely that these changes won't increase top speed, as most are geared towards increasing downforce and grip and engine power may remain largely unchanged.