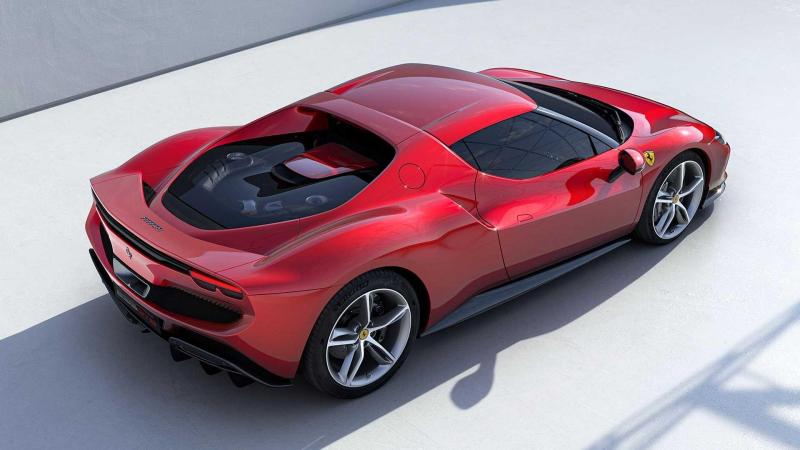 Ferrari have revealed a brand new mid-engine 2-door coupe - the Ferrari 296 GTB, with a completely new technical and visual design and several new milestones for Ferrari and car industry in general.
It is the first 6 cylinder Ferrari in a very long time, it is first to feature "hot vee" engine design, where turbochargers are housed between the cylinder heads instead of on the sides (yes, Germans have been doing this for ages), and it improves in all areas of performance - active aerodynamics, better brakes, less weight and less emissions, thanks to hybrid powertrain.
Ferrari are also claiming record specific output for this brand new V6 turbo engine, which will produce 663 metric horsepower from 3 liter displacement. This means 220 PS per liter, which is extreme amount for any road car. For comparison, the 1.6 liter Toyota GT Yaris, known for its high power to displacement ratio, only makes 170 PS per liter.
Like the entire car, Ferrari's new V6 engine is brand new development, and, assuming Ferrari designed it with modularity in mind, could evolve into 8 cylinder version producing approximately 880 PS, given the same boost pressure.
It is not clear to me if Ferrari have intended 296 GTB to be replacement for F8 Tributo and retire the 8 cylinder engines from their mid-engine mainstream models, or, Ferrari still intends to produce 8 cylinder cars and 296 GTB will be extension of Ferrari mid-engine offering.
At the more affordable end Ferrari have the Roma front-engine coupe, which still uses 8 cylinder engine, without electric motors. It would be somewhat confusing if cylinder count no longer reflected the performance and price hierarchy across the Ferrari model range. It is likely that next generation Roma will use a variant of this new V6 and the hypothetical new "hot-vee" 8 cylinder engine will be reserved for the "hypercar" range.
For my money I would rather have the extra 2 cylinders than the electric motor, as I really don't think Ferrari cars should have anything to do with saving polar bears or stopping small tropical islands from disappearing under the ocean. Ferrari makes so few cars that their effect on greenhouse gasses is negligible.
For more information on the 296 GTB I recommend reading Ferrari press release which is refreshingly rich of technical and geeky information about the car and the new powertrain. As is typical with these releases, Ferrari have also published some performance data - 0-100 kph in 2.9 seconds, 0-200 in 7.3 and lap time around Fiorano test track of 1 minute and 21 seconds.
More performance data will be published in Ferrari 296 GTB page, as it becomes available.