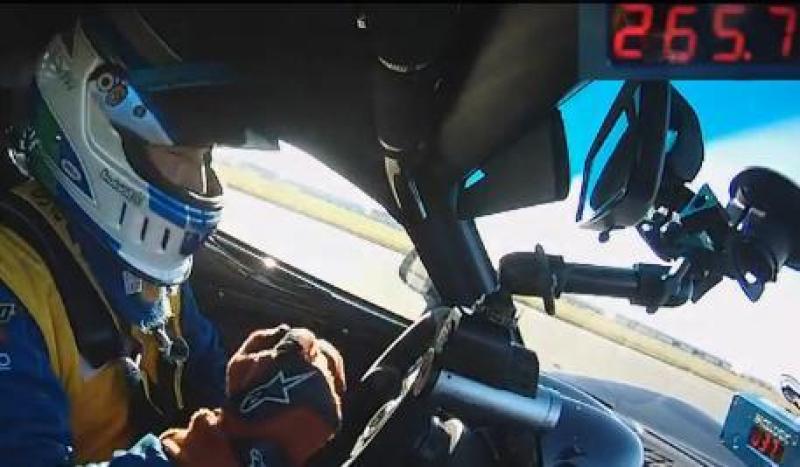 Hennessey Venom GT has not set the production car speed record, making it not the fastest car in the world.
Hennessey Performance, the Texas based engine tuning company and now car producer, has released a press release, stating that Venom GT has broken production car speed record and now "the worlds quickest car is also the worlds fastest car".
That all sounds very good, except, Hennesseys claimed record of 265.7 mph is 2.157 mph less than what Bugatti Veyron SuperSport did for all to see in a TopGear episode.
John Hennessey argues that Veyron SupersSports now come with top speed limiters at 258 mph and, therefore, Venom GT is the only production vehicle you can buy which will take you beyond the 260 mark without any modifications.
I, personally, don't care about this argument, all that matters to me is what speed is the car capable of doing and I know that Veyron SS is capable to go beyond 260. Artificial limiters don't matter to me and they don't matter to all these people buying powerful German cars which are limited to 155.
Having expressed my disapproval of the Texan "redneck" supercar company, I must also admit, that I did not expect the Venom GT to get this close to Veyron SS record. Venom is not built for top speed, it's built for acceleration.
What makes the 265.7 even more remarkable is that it was recorded on an airfield. It might have been the longest runway in United States, but I don't believe it was as long as the 9 km (5.6 mile) long straight in VWs high speed test track where Bugatti record was set. This 9 km straight is also preceded by a fairly high speed entry turn which can give you upwards of 155 mph head-start. In other words - Hennessey Venom GT almost matched Veyron SS on much shorter track.
This is why I believe they believe they can beat Veyron SS. The press release states that Venom record was set in February 9, 2013. My theory is that they didn't publish this right away because they were doing multiple extra attempts after the 265.7, none of which were any faster.