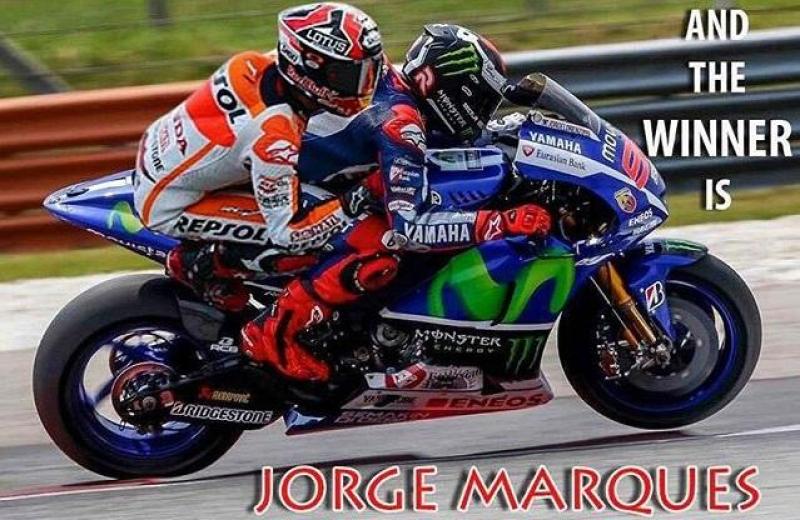 Congratulations to Jorge Lorenzo and his fans for victory in one of closest, most exciting championships in MotoGP history.
Due to unfortunate events in Malaysian GP two weeks ago, championship leader Valentino Rossi was penalized with last place grid penalty. Despite that, #46 managed to run a masterful race, finding way around 21 riders and finishing 4th, just after the two factory Hondas and his teammate Lorenzo.
Rossi did everything he could and it was down to Honda riders to overtake Lorenzo, if Rossi was to win the championship.
In final laps Lorenzo was slowing down, and Dani Pedrosa from 3rd place managed to quickly erase a 2.5 second gap and catch up to the leading duo. Marc Marquez, however, rode close to Lorenzo for 28 laps and did not attempt a single overtake manoeuvre, even towards the end when Lorenzo was running out of grip and struggling.
To me it was obvious that Marc Marquez made a conscious decision not to challenge Jorge Lorenzo and make sure the world championship title stays in Spain.
The fact that Pedrosa was able to catch up so quickly and attempted to overtake them both at the same time, clearly proves the point.
While it was satisfying to see Marc Marquez and Jorge Lorenzo getting "booed" and whistled at the podium, it has to be said that on racetrack Jorge Lorenzo did nothing wrong and rode like a champion throughout the season. There is only one man responsible for the disappointing finale of the season, and I am sure you know who he is.
With help of Marc Marquez, Jorge Lorenzo got his 3rd title and his name in history books, but Valentino Rossi got more respect, more fans and more victories and podium finishes to add to his "hall of fame" record.