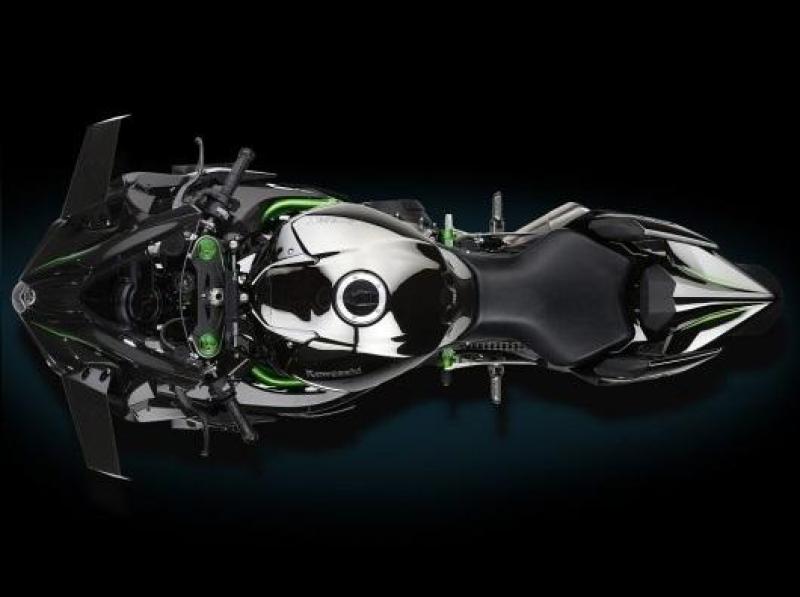 Back in the early two-thousands when Ghostrider videos where all the rage, Suzuki GSX-R 1300 was the undisputed high speed king.
Fairing shaped by wind-tunnel data and engine with 170 horsepower in a time when anything north of 100 was either a supersport or flagship sports tourer.
When few years later Kawasaki rolled out the ZX-14 with 190 horsepower, it seemed almost inappropriate for motorcycle manufacturers to be flirting with the "200".
Improvements in metal working and precision engineering have allowed engineers to design reliable engines with much greater power output than 20 years ago. However, for better or worse, almost all modern superbikes have not exceeded the 200 horsepower threshold.
Perhaps it takes a major precedent to start the ball rolling, and this precedent may very well have arrived in form of the Kawasaki Ninja H2 - a new flagship supersport due to be revealed tomorrow.
The H2 is a street legal twin of the recently revealed H2 R track day bike.
The H2 R is a game changing motorcycle - it is the first production street bike, to my knowledge, with forced induction in form of a supercharger. Kawasaki claims this bike will also be the first to kick off what they call a "hyperbike class" - a two wheeled analogue for the hypercar class, currently populated by Ferrari LaFerrari, McLaren P1 and Porsche 918 trio.
It remains to be seen if the street legal H2 will inherit the full 300 horse output, or if the emissions requirements will force Kawasaki to turn down the wick a little bit. Either way, it has to be a forgone conclusion that this bike will exceed the acceleration benchmarks set by BMW S1000RR, and will likely exceed them in a big way.
American talk show host and famous motor enthusiast Jay Leno will likely take part in the introduction, and has promised to preview the H2 in his YouTube channel "Jay Leno's Garage". Jay claims the new H2 will accelerate as fast as McLaren P1, LaFerrari or Porsche 918. If the road going H2 power output is similar to that of the H2 R, this claim may very well be accurate.
We will have to wait and see. The good news is that we don't have to wait long. And tomorrow may be a historic date in motorcycle history.