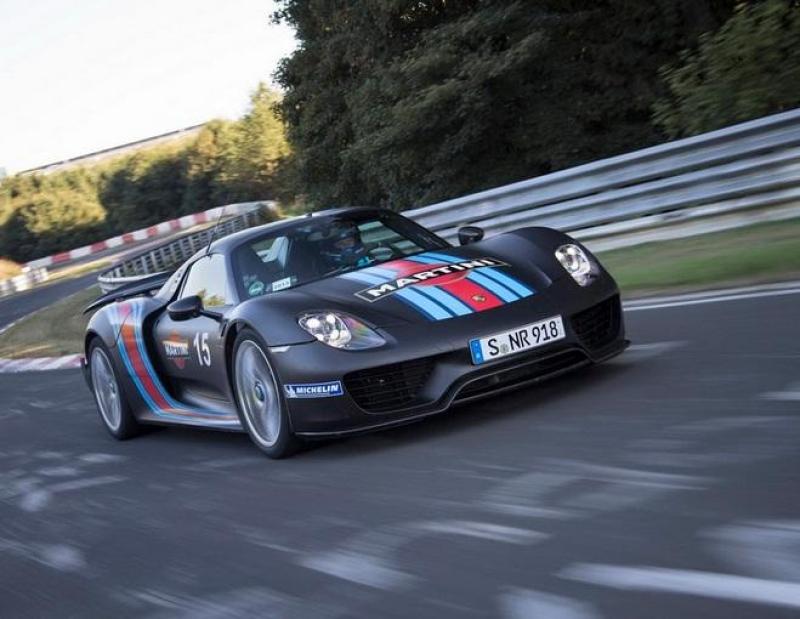 Few days ago Motortrend released 11 minute video feature on Porsche 918, complete with instrumented straight line tests and a timed run on Willow Springs Big Willow circuit.
The timed run by Randy Pobst is especially notable, because it set a new production car lap record at the Big Willow, surpassing the Viper ACR by ridiculous 2.5 seconds!
The 2.4 second 0 - 60 time as well as best ever figure-8 and braking marks were also impressive. Until they got a little tainted when Motortrend pasted in a side by side interior footage of 918 and P1 accelerating, which confirmed that the 918 edge ends quickly after gaining full traction, and P1 will be the decisive winner at the dragstrip.
Until McLaren proves otherwise, there is no reason to be absolutely sure that P1 will carry this victory all the way to the racetrack.
While McLaren have been keen on advertising the track oriented suspension and crazy amounts of downforce the P1 body can generate, there are no hard facts to confirm that it indeed is the fastest track car of the 2014 hybrid hyper trio.
We want cold hard laptimes. We want McLaren and Ferrari to release whatever laptimes they got at the Nurburgring during their internal testing, as well as media access to these cars for competitive comparison tests with direct rivals.
We also wish that some of the P1 and La Ferrari owners will be less investment oriented and more open to the idea of subjecting their expensive four wheeled acquisitions to whole hearth-ed track testing by reputable, independent third parties.
We want that Porsche 918 vs McLaren P1 vs Ferrari La Ferrari test and we want it to be more than just gentle drive and a few eloquent epithets by some overly enthusiastic TV personality.
Cold hard laptimes!
Watch the video here.