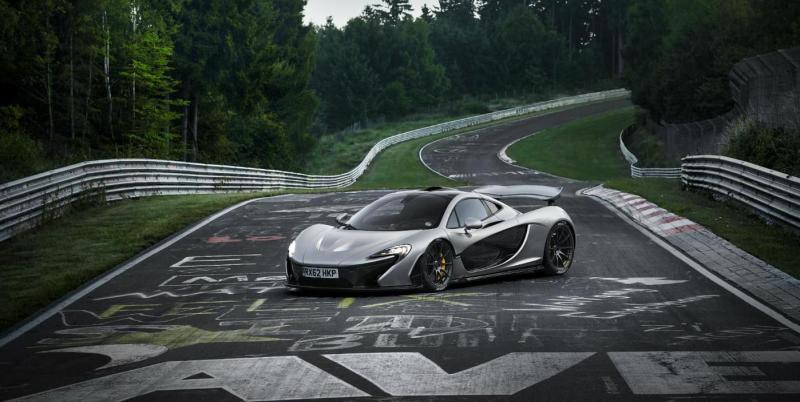 The following article was published on April 1st of 2015 as Aprils Fools' prank.
McLaren have finally published the long awaited Ring record for the P1 supercar. McLaren have been testing P1 at Nurburgring Nordshcleife since late 2013, but no official record has been published. Until today.
Have McLaren delivered on promise to lap the "Green Hell" in under 7 minutes and have they beaten Porsche 918 record of 6 minutes and 57 seconds?
The short answer to both of these questions is "no" and a "no". In a brief press release published today, McLaren state that the best time so far achieved in factory testing, is a very disappointing 7 minutes and 12 seconds.
This makes it immediately obvious, why it took over a year for any official time from McLaren.
P1 skeptics have long speculated that the smaller KERS battery would not be enough for a 20 km track like Nordschleife. This theory has been confirmed in recent interview by Autobild, where McLaren chief test driver Chris Goodwin, candidly admits that the P1 ran out of "electricity" before completing a flying lap:
"I think it was not a wrong decision. Smaller battery meant we could hit out weight target, and less weight is always better. Unless you have to complete a 20 kilometer out-lap. On a track like this our weight savings really bite us."
Perhaps more shockingly, Goodwin further admits that P1 had trouble hitting speed targets set by a 650S:
"After completing one lap, the lack of electric thrust was noticeable. In Flugplatz and Schwedenkreiz we were barely faster than a 650S. But don't get me wrong, 650S is a fast car."
There is no doubt that McLaren die-hards will be deeply disappointed with the news, but we have to congratulate McLaren for being honest and open in releasing information which is likely to have negative effect on their reputation or even sales of the upcoming McLaren 570S, which will be in direct competition with Porsche in the more affordable "911" segment.
* Happy Aprils Fools' day! This article is completely bogus.