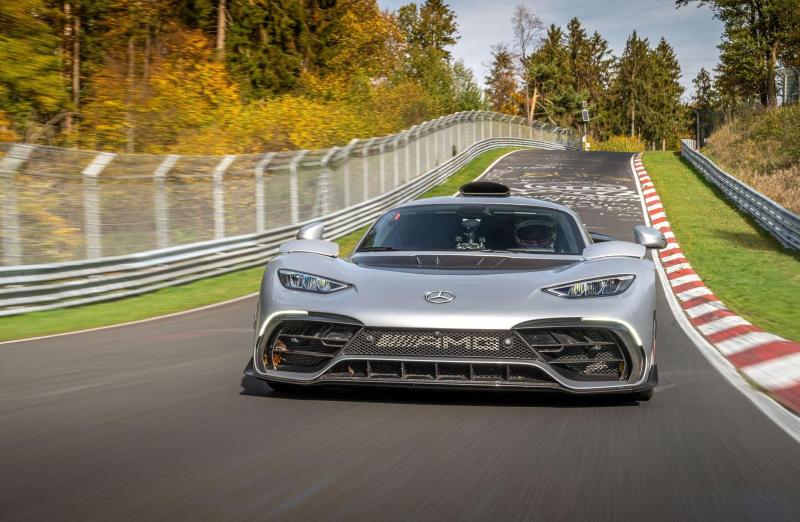 Mercedes AMG One becomes the first modern hypercar to be tested at the Nürburgring Nordschleife, and beats reigning champion Manthey Racing Porsche 911 GT2 by more than 8 seconds.
On October 28 Mercedes AMG One with racing driver and AMG brand ambassador Maro Engel managed to set 6:30.70 and 6:35.18 lap times for 20.6 and 20.8 km configurations. For the full length Nordschleife, this is almost 13 seconds faster than same driver managed previously in another Mercedes AMG - the GT Black Series.
According to Engel, track conditions were far from perfect with some parts of the track not being fully dry. Despite this, Mercedes did not abandon their plans and inherent performance of the car was enough to still break the record and do it with convincing margin.
It will likely take another extraordinary hypercar to beat this record, or Mercedes themselves with another run for the AMG One in more suitable conditions. As long as Mercedes are on top of the lap time chart, it is unlikely they will try again. What could prompt them to do this is if Porsche beats their time with the upcoming GT2 RS or some of the other 1000 horsepower rivals decide to take the risk and join the Nürburgring sweepstake.
I believe 6:30 is slightly out of reach for the theoretical 992 GT2 RS, but Porsche are known to exceed my expectations. Just recently they managed 6:44.85 with 992 911 GT3 RS which only has 525 horsepower - half the amount that AMG One has.