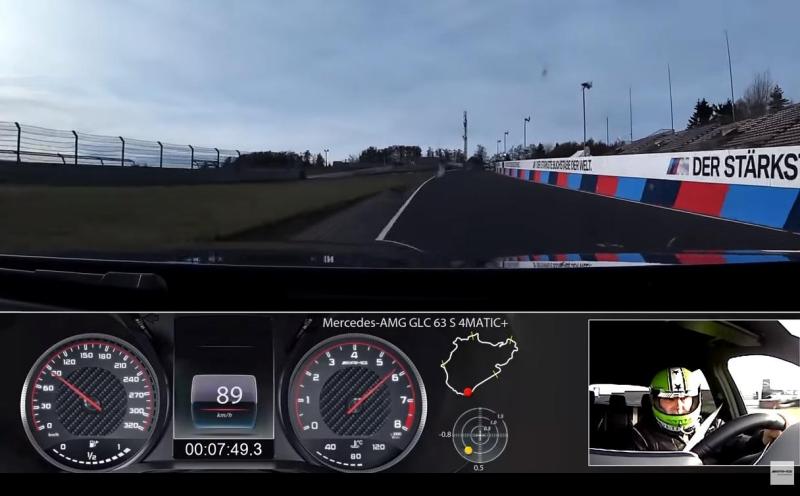 After beating nearly all 4-door cars with "4 door coupe" AMG GT 63 S, Mercedes are re-targeting their attack to the crossover/SUV category, now claiming to have world's fastest SUV at Nürburgring - the Mercedes Benz GLK class.
Video released by Mercedes AMG show the 510 horsepower GLK 63 AMG laping Nürburgring Nordschleife in 7 minutes and 49.3 seconds, beating previous SUV record by 2.4 seconds.
According to Mercedes, this was first timed GLK lap attempt for their development driver Markus Hofbauer, which implies there is room for improvement, should Mercedes face any challengers.
And challengers there are many - most notably Lamborghini Urus, which so far has not been tested at Nürburgring, as far as we know. Fastestlaps.com estimate for Urus at Nürburgring is 7:56, but my estimates tend to be conservative.
There is every reason to believe Urus will beat GLK if and when Lamborghini pull the trigger for a record attempt or publish what they already did in testing, if such Nürburgring testing indeed happened.
It is interesting to note that Mercedes managed to beat two Alfa Romeo Nürburgring records in quick succession - first the Giulia QV 4-door record in late October and now the Alfa Romeo Stelvio SUV record.
The competition for Nürburgring titles between Germany and Italy has never been better - Italy still holds the overall title with Lamborghini Aventador SVJ.