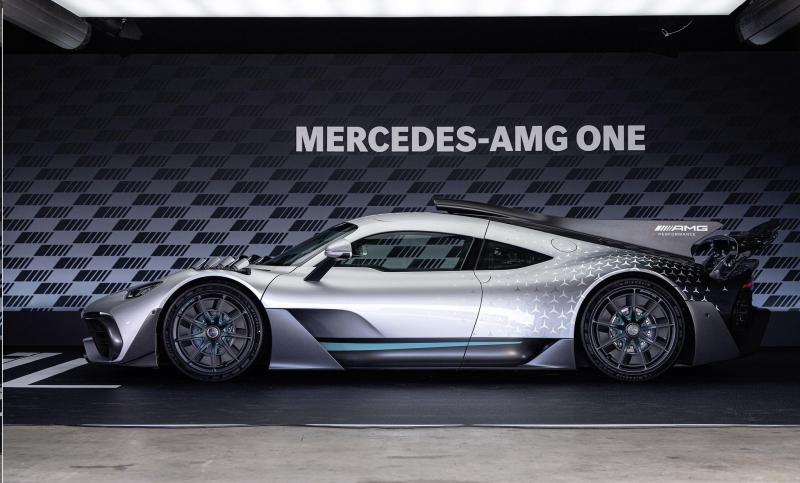 After years of development and Covid related delays, Mercedes have finally unwrapped their new road-going super car - Mercedes AMG One.
What makes AMG One stand out among its "hybrid hypercars" peers is Formula 1 derived powertrain and advanced aerodynamics.
AMG One has mid-mounted V6 turbo engine with unusually low 1599 cc cylinder capacity - same as modern Formula 1 cars. Compact V6 is supported by 4 electric motors which all provide power at the same time. Combined peak power was revealed as 1063 metric horsepower, peak torque is unspecified "due to complex drive train", and DIN-certified kerb weight is hefty 1.69 tonnes.
Power and weight figures alone do not look particularly impressive but this car is much more than power-weight ratio and straight line acceleration.
Just like Formula 1 car, AMG One is built around carbon fiber monocoque and load-bearing engine/transmission unit. It rides on pushrod suspension and features full carbon fiber body with striking aerodynamic features - most notably the LMP1/Formula 1 style "fin" over the rear engine cover.
AMG One is perhaps the most complex road car ever built and it will be fascinating to see weather desire to use complicated F1 powertrain actually translates into faster lap times. Formula 1 is held back by regulations and 1.6 displacement limit is entirely arbitrary and deliberately restrictive.
To make this high revving small engine last in a heavy road car (redline is 11000 RPM!), engineers had to reduce power even further. It remains to be seen whether 4 electric motors will be able to make up for it and provide enough propulsion to match simpler combustion-only cars like McLaren Senna or large displacement V12 hybrid of LaFerrari.
Judging by Mercedes official performance figures (0-200 kph in 7 seconds), AMG One will not quite keep up with LaFerrari or SF90 in straight line. However, these performance figures may be conservative and improve in further testing.