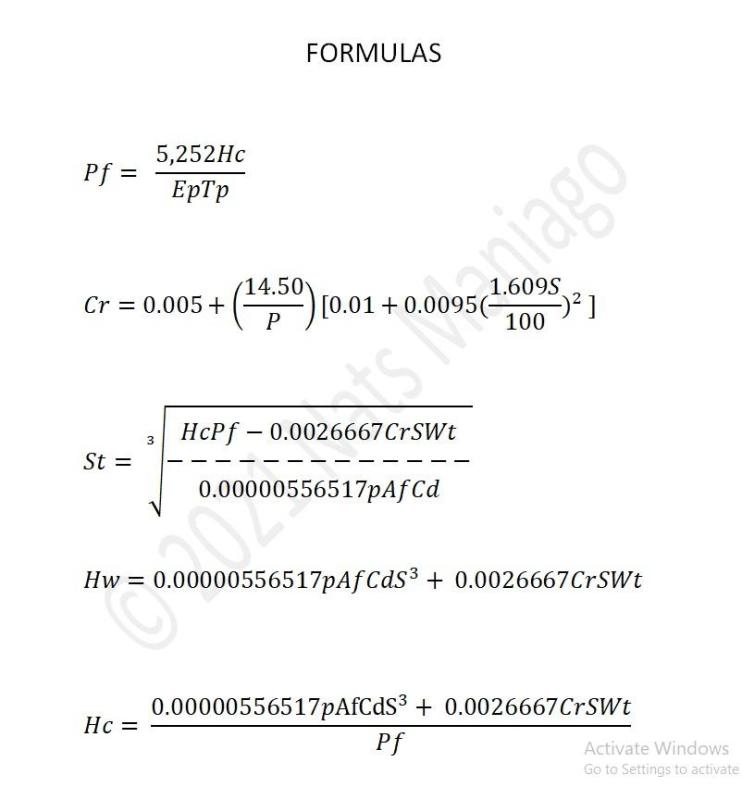 PROCEDURE
Solve for St or top speed by iteration:
First things first. Solve for Pf and Cr first using the Pf and Cr equations. In solving the St equation, iteration or trial and error is needed. First, make a good and reasonable first guess for S. A 10, 20 or even 50 mph error is okay since it will eventually converge or lead up to the right one in the end, maybe after 4 to 6 substitutions. Remember, the first result "IS NOT" yet the top speed. Now, substitute the obtained St speed to S in the equation again using the "corresponding" Cr for that speed and solve. Repeat the process for maybe 4-6 iterations until S and St are the same. The S will go up and down until it settles. To get actual Rho or air density, obtain it here by inputting some numbers or parameters: Air Density Calculator - What is the Density of Air? (omnicalculator.com) and convert the obtained〖 kg/m〗^3 by multiplying with this conversion factor 0.00000556517, or the obtained 〖slug/ft〗^3 by multiplying with this conversion factor 0.00286817, then substitute the result in the St equation and solve accordingly.
All equations or formulas are my version of well-known formulas—transformed, modified and converted. However, the Cr one is from: Rolling Resistance (engineeringtoolbox.com)
And for Rho or air density, I make use of this site: Air Density Calculator - What is the Density of Air? (omnicalculator.com)
And for recommended tire pressure and other information, the sites are: https://www.tiresplus.com/tires/tire-pressure/inflation/ and https://tirepressure.com/
And for past weather for a specific place, I use this site: https://www.timeanddate.com/weather/usa/los-angeles/historic
Things to bear in mind:
1. The Hc (crank or flywheel) and Hw (wheel) equations have 2 components--the 1st one has to do with how much power to overcome air resistance or drag, the 2nd one is with the rolling resistance. It is said that there are at least 3 or 4 "resistive" forces acting on a moving car--air resistance or drag, rolling resistance, gradient and lesser known applied inertia. Since top speed is supposed to be run on a flat and level road, gradient is not included in the computation and at top speed, acceleration is absent.
2. It seems the problem child in top speed calculation is the coefficient of rolling resistance, or how much. Usually, anywhere between 0.010-0.015 is used by many. There are a lot of formulas and equations out there about Crr. Some would give low figures, some would give really high ones, reaching 0.100 or more on speeds of 300 mph or more. Using high values such as 0.050 or whatever instead of the "standard" 0.015 or so would result in "lower" top speed. In my case, I don't use the low standard numbers but instead stick to what the formula dictates based on speed, tire pressure, size and rating, weight or load on the vehicle, weight distribution and corner weight, including the driver and down force, if any. Mind you, all of those affect rolling resistance, which in turn affect speed or top speed.
3. Regarding drag coefficient, manufacturers usually only give it with 2 significant figures, like 0.30 or what have you. But just because it is 0.30, it doesn't necessarily mean it's exactly that. For all you know, it could be anywhere between 0.295 and 0.305, and that 0.01 difference could mean a few horsepower or miles per hour error or difference in the calculation. So is with the frontal area and others. Take note.
4. Tire pressure alone would affect the top speed or result. Usually, driving at normal highway speeds, say 70 mph, only requires recommended tire pressure, such as 30-36 psi, depending on the car and its tires. But if it is to be driven at very high speed, say 150, 200 mph or more, those same tires would have their tire pressure increase to say 40 or more. Super or hyper cars running 250-300 mph have their tire pressure as high as 50 or so!