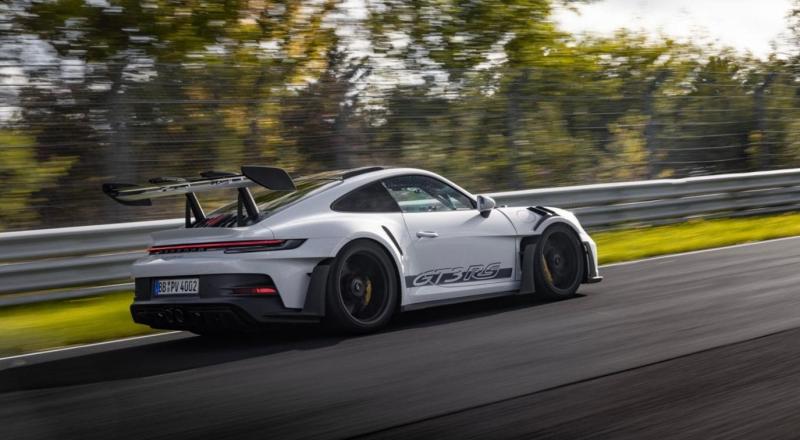 Porsche have finally brought their new naturally aspirated performance king to the Nürburgring Nordschleife.
After multiple impressive laptime runs for various types of sedans and SUVs, and collaborations with Manthey Racing (Manthey GT2 RS still holds the "street tuner" lap record), it was finally time to test a true Porsche sportscar with enough track focus to challenge the absolute production car record.
Jörg Bergmeister and Porsche 911 GT3 RS did come very close to de facto production record with a very respectable 6:44.85 - just 1.2 seconds off the AMG GT Black Series and 1.6 seconds slower than McLaren P1 LM. The LM may not even qualify for road/production car record, depending on who you ask, while the AMG GT has 200 extra horsepower - huge difference for a track that does have fast sections that need power.
It is hard to tell whether the emotional gasp at the end of the lap was from joy or disappointment, having missed the absolute record by less than 2 seconds, but one second over nearly 7 minute lap is almost negligible - so insignificant it would even make sense to build a production racing series with AMG GT and 911 GT3 RS as equal car choices.
Moreover, it is possible that 911 GT3 was side by side with the 730 PS Mercedes even as late as the beginning of the last straight. Extra 200 PS delivered additional 24 kph for Mercedes and this is where most of the 1.2 second difference was made.
Special thanks to TypeF173 for the heads up on the leak (this laptime was added to Fastestlaps.com day before it was revealed by Porsche) and Porsche for timing and publishing lap times on both 20.8 and 20.6 km layouts.