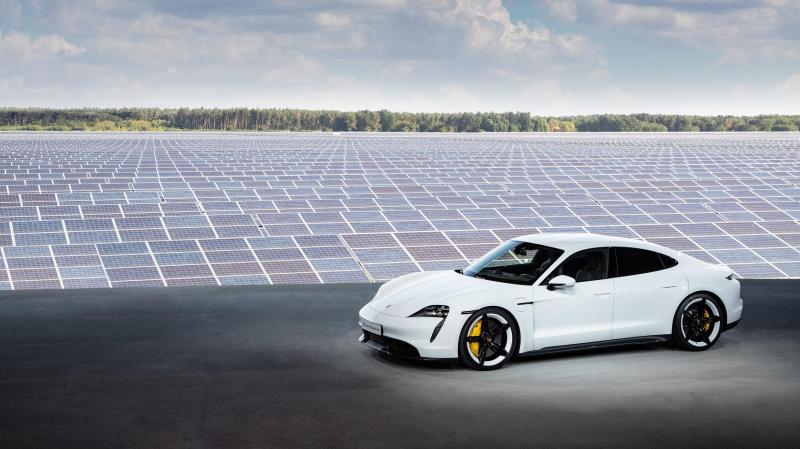 If you wanted ultra fast electric sports sedan, it used to be that your only option was Tesla - the company which started the electric car renaissance and maintains its lead still today.
There were competitors with cars similar to Model S, but some have gone out of business (remember Fisker Karma, even Justin Bieber got one!) and the rest are constrained to the Asian market (Nio, Geely and others).
Jaguar, Mercedes and Audi skipped the sedan and went straight to the money making segment - compact SUV, but even there Tesla still maintains edge in performance, even if automotive press prefers Audi E-Tron over Tesla Model Y in terms of comfort and refinement.
Today Porsche revealed the Taycan, the first fully electric Porsche, in a synchronized press event held on three locations across the world - Canada, Germany and China (notice, no USA, I am not surprised..). The camouflage was finally unwrapped and what we saw emerge was not too different from the Mission E concept car from 2015 and the augmented reality virtual concept Porsche released last year.
The meat of the press release was technical details on Porsche powertrain, which has several advantages over current generation Tesla powertrain - it runs on 800 volts instead of 400, which allows for very fast charging (Porsche claims charge time from 5 to 80% in just 22.5 minutes, given appropriate fast charger) and it has 2 speed gearbox for improved efficiency and acceleration.
Porsche say the most powerful version, the Taycan Turbo S, generates "up to 750 horsepower" and allows for 2.6 second 0-60 mph time. The regular Taycan Turbo has "up to 670 horsepower" and 3 second 0-60 time.
The language used in describing performance suggests that maximum power will be limited to short bursts, likely to preserve the battery. These restrictions will not be too severe, otherwise Porsche would not have been able to record a 7:42 lap time at Nürburgring, which they claim is the fastest ever electric road car lap time.
It will be exciting to see how Porsche and Tesla rivalry plays out in future and how the car buyer votes with his or her money - Americans have a head start in electric charging network infrastructure, data acquisition, electronics (Tesla even have developed their own silicon processors), information technology (including AI), while Germans have much greater experience with manufacturing, design and carmaking in general.
You may think that all the techy stuff will turn out to be more valuable in winning the hearts and wallets of the car buyer, but I beg to differ. Car is not an app, it is extension of your home. In your home you first value the interior design, quality of materials and how well it's all put together. Gadgets can be nice but they are secondary.
I also think that Elon Musk is overestimating the utility and success of artificial intelligence and the feasibility of fully self driving cars. Even if he turns out to be right and I am wrong in my pessimism, Tesla will likely become an AI-as-a-service company which will sell self-driving brains to other car makers in addition to using them themselves. In this scenario you will still choose the car with best chassis and best fit and finish. Current generation Tesla Model S and Model 3 most likely do not and will not match Taycan in these areas.