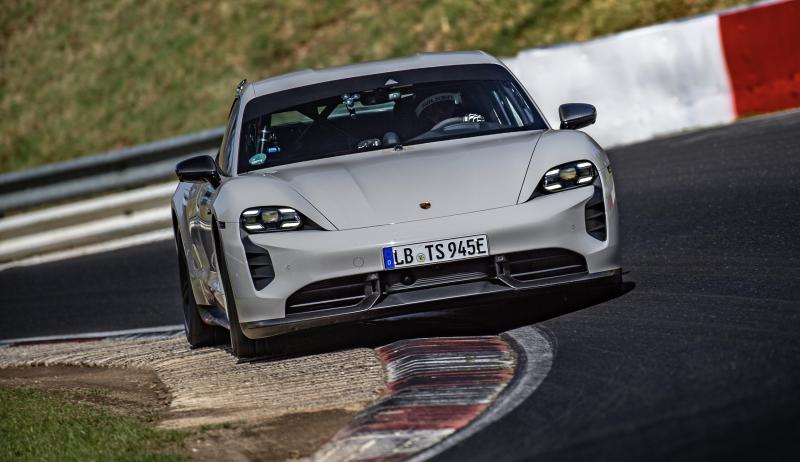 Porsche today revealed yet another Nürburgring Nordschleife lap record in yet another category - this time it is for the fastest series production electric car.
Porsche Taycan Turbo S, equipped with new optional "Performance package" lapped the full Nürburgring course in 7 minutes and 33.3 seconds. Driver was, as usual, Porsche test driver Lars Kern, who has Nürburgring experience with other Porsche cars, including the Taycan's non-electric sibling Panamera Turbo S, which, until relatively recently (thank you Mercedes), held the record for fastest 4-door car overall.
Unlike previous times, this time Porsche decided to be really stupid about this and not release lap time for the 20.6 km configuration which is the only configuration that anyone cares about. Perhaps current track owners in their infinite lack of wisdom are forcing manufacturers to use the 20.8 km layout, and Porsche, as well as others, will have no choice, unless they want to skip the official notary verification and "blessing" by the track owners. Or I am just half-blind and couldn't find mention of the 20.6 km lap time somewhere in small print.
Taycan, being a very heavy electric car, behaves differently than Panamera or AMG GT S, and has different strengths and different weaknesses in different phases of each corner and consecutive high speed turns. Its strength is acceleration and weakness is inertia which pushes tyre grip to limit sooner than on lighter cars. Another peculiar shortcoming of the Taycan Turbo electric drivetrain is its limited top speed, which cost at least 1-2 seconds at the start-finish straight, while it was pegged at 268 kph, instead of near 300 kph that combustion engine Panamera or Mercedes AMG could reach.
Despite these disadvantages, it is encouraging to see electric production car able to finish full flying lap at the Nürburgring, without overheating or running out of juice. This is not something you could count on if you tried doing flying laps at a 20 km long circuit in any other electric car, because Porsche powertrain was specifically designed for this type of extended high power drain scenario, which would never manifest in normal every day use, but would be critically important for high performance use cases such as track days or extended high speed runs on unrestricted autobahn.