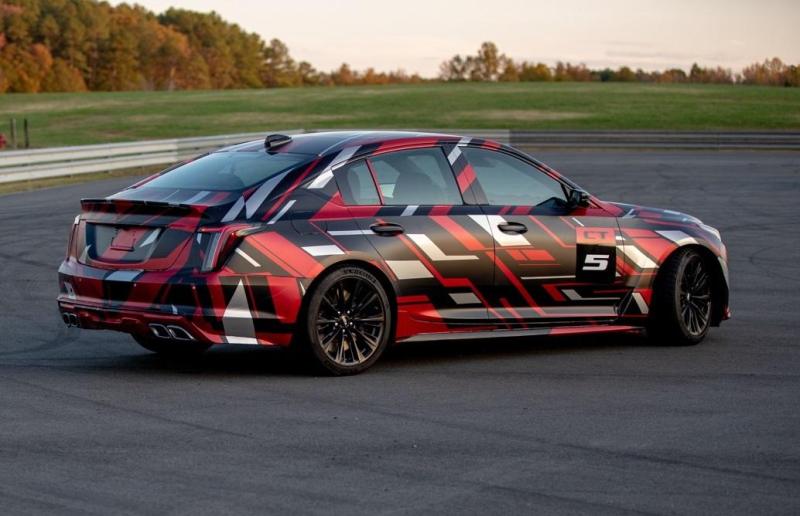 Here's HOW the Cadillac CT5-V Blackwing will be released.
First of all, the Cadillac CT5-V Blackwing will be targeting the all-wheel-drive BMW M3 Competition and upcoming hybridized Mercedes-AMG C 63 S. It will come with nasty amounts of power, but it will still be competing with those two in regards to price.
Most importantly, the CT5-V Blackwing is slightly smaller than the outgoing CTS-V, so it will (should) be lighter too. According to GM Authority, it will wear larger tires as well - 275's up front and 305's in the back.
In regards to four-door sedans, the CT5-V BW will be prioritizing laptime records over dragstrip quarter-mile times. There are REALLY ONLY TWO others like this car - the Alfa Romeo Giulia GTAm and the Jaguar XE SV Project 8. But they are limited-production, and the CT5-V BW will be a series-production model.
Also, when the CT5-V BW gets released, it is expected that the supercharged LT4 engine that is powering the car will get a power bump — MASSIVE for the Cadillac super-sedan, but a slight bit for the Chevy Camaro ZL1. It has remained at 650 hp since 2017 (CTS-V made 640 from 2016 to its last year of prodiction, 2019).
For the 2022 model year, the CT5-V BW should definitely produce 670 hp at 6600 rpm and 650 lb-ft at 3600 rpm (30 more hp and 20 more lb-ft than predecessor). Same with the Camaro ZL1.
Despite the smaller size, Cadillac is still aiming (performance wise) after the BMW M5 Competition and Mercedes-AMG E 63 S (Germans are conservative with power ratings). Like they did with the 1st and 2nd gen "compact/midsize" CTS-V, and with the "mid/full-size" STS-V and CT6-V, their new CT4-V BW and CT5-V BW super-sedans will earn their "tweener" status.
Before the haters get mad, let's discuss the real reason why the 4.2TT Blackwing will NOT appear in any more cars than the now-discontinued CT6-V:
Production costs
It will be modified, bored up (~7.0L) and stroked down (back to ~5.5L) to fit the upcoming C8 Z06 and C8 ZR1 Corvette for homologation.
Either way, the engine (being a DOHC rather than an OHV) is too large to fit a D-segment car like the CT5-V BW.
The Blackwing twin-turbo engine is far too torquey and not as high revving as the sport-focused LT4.