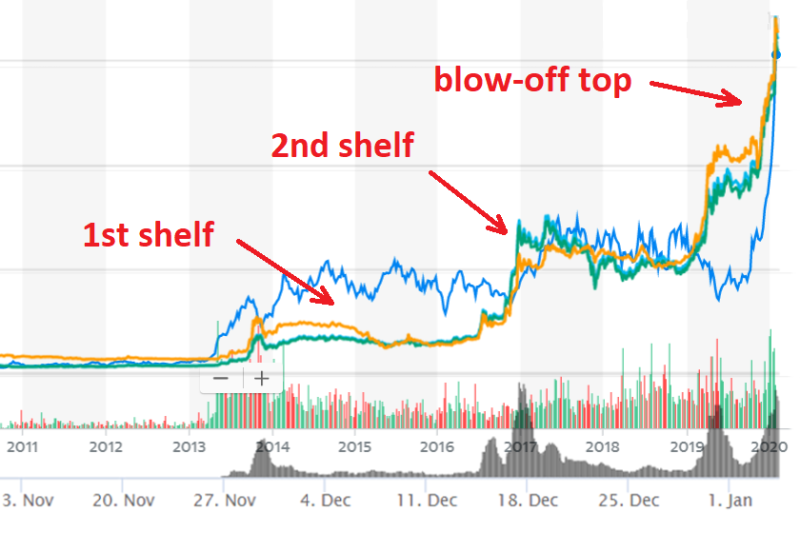 With Tesla (TSLA) stock just about touching $900 in the pre-market session of February 4th 2020, I can't help but notice similarities with 2017 cryptocurrency bubble.
In particular, the Tesla stock dynamics remind me of multi-shelf pump & dump pattern played out in altcoins, such as Cardano.
This multi-shelf pattern does not appear to be smooth exponential but rather a stepped increase in price, followed by steep blow-off top.
The stepped phase of Tesla stock pump has played out over much wider time axis, but the blow-off phase appears to be at least as steep if not steeper than Bitcoin and altcoin tops in late 2017.
For Cardano, the stratospheric rise gave way to somewhat slower deflation period with over 95% losses for the investors who bought at the peak.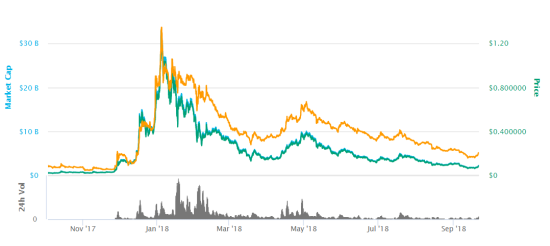 For TSLA buyers jumping in at this time, losses will likely be less dramatic and largely dependent on macroeconomics, specifically, the amount of central bank money printing and asset buying that will follow any natural market correction.