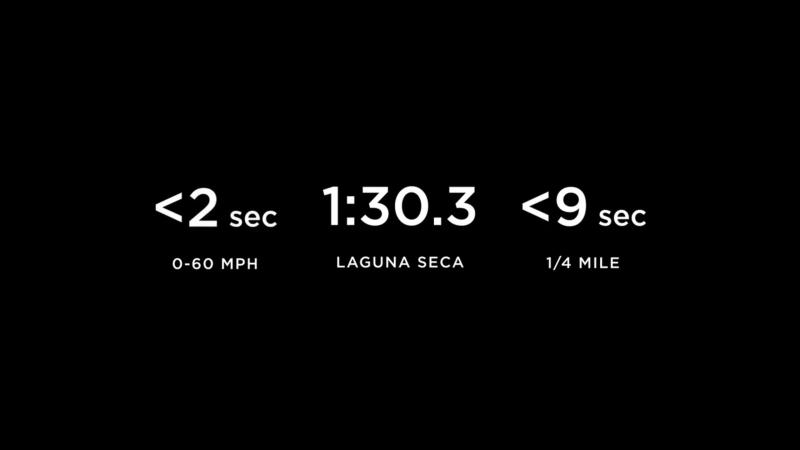 Today was big day for Tesla. The long awaited "battery day" presentation and quarterly shareholder meeting, all in one event, during which Tesla also released a video showcasing some other-worldly performance numbers for the upcoming Model S with "Plaid" drivetrain.
Along with the expected 0-60 mph and quarter mile times, Tesla also included Laguna Seca lap time - 1 minute and 30.3 seconds - faster than McLaren P1, Dodge Viper ACR, Corvette ZR1 and almost everything else under the sun.
The straight line acceleration figures were equally unbelievable - 0-60 mph in less than 2 seconds and quarter mile in less than 9. Talk about break-neck acceleration.
These headline figures are clearly intended to grab attention and cause waves in social media. I am sure there will be smallprint and strings attached to most of these claims, and there is no rush to get excited before we actually get concrete numbers and assurances that these can be reproduced with production car, on street tyres and on normal road surface.
This what Elon Musk himself had to say bout the Plaid:
We took the latest Plaid out to Laguna Seca on Sunday and we got a minute 30, we think probably there is another 3 seconds or more to take off that time, so we are confident that the Modal S Plaid will achieve the best track time of any prodution vehicle ever, of any kind - two door or otherwise.
Taking off 3 seconds would imply 1:27, which is in the ballpark with McLaren Senna and consistent with the promise of beating "any production car ever, 2-door or otherwise".
It is interesting that Tesla no longer seem to be gunning for Nürburgring lap record - understandable as longer tracks tend to suit combustion engine cars better.
The Plaid Model S is expected to arrive late next year, so no immediate danger for Porsche Taycan Turbo S which will remain the electric performance king for at least another year.
In my estimation it is highly unlikely that any development of Model S will be able to produce sustained track performance comparable to Taycan Turbo S, and I will be shocked if any customer Model S will be able to replicate the 1:30 Laguna Seca time.