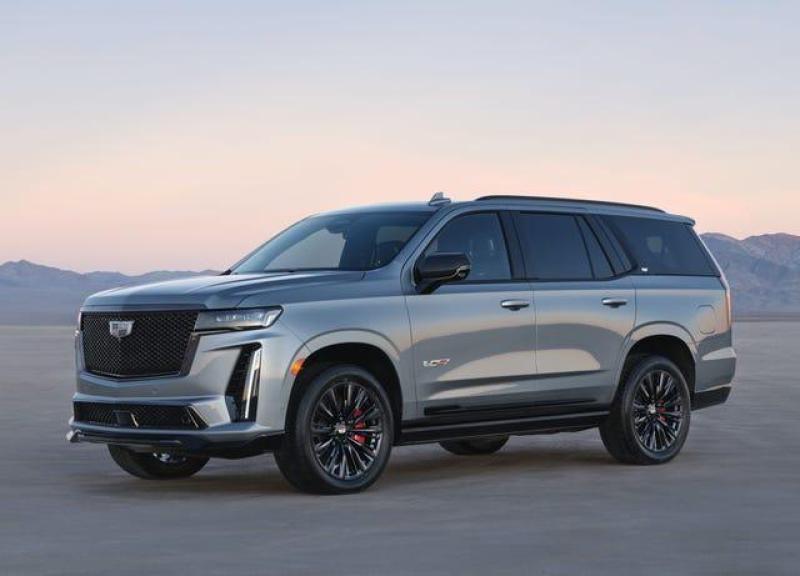 Today GM has released full specifications for the Cadillac Escalade's high performance version, the V-Series, which utilizes the heart of a Cadillac CT5-V Blackwing and Chevy Camaro ZL1 - 682 horsepower LT4 V8. Close, but no cigar to the Dodge Durango SRT Hellcat's 710 ponies!
Cadillac calls this "the most powerful full-size SUV." While Dodge refers to Durango Hellcat as a midsize SUV, length, wheelbase, width, height, frame and especially towing capacity all prove otherwise.
A Dodge Durango is bigger than a Range Rover and barely smaller than a BMW X7 or Mercedes-Benz GLS-Class. By the way, I would even consider today's Ford Explorer and Lincoln Aviator full-size. America may have a different way of measuring full-size SUVs, but in Europe, anything over 5m long and 3m+ in wheelbase is a full-size no matter what.
The Escalade-V, even with its SAE-certified 682 hp rating gets its rear end kicked by the BMW Alpina XB7 and Mercedes-AMG GLS63, both of which make more power and are lighter too.
The Germans rate power output at wheels for performance cars and at crank for some of their mainstream cars, and AWD accounts for approximately 80% drivetrain efficiency (even up to 90% in advanced systems like M xDrive and AMG 4MATIC+). Germany's performance AWD cars are even better than RWD cars (85%) and on par with FWD ones in terms of power efficiency.
Seeing that the Alpina SAV is rated at 621 PS and the Mercedes SUV at 612 PS (both DIN figures), those are equivalents to 690 PS for the Alpina and up to 680 PS for the Mercedes in SAE "speak". Even then, both trucks provide a flatter torque curve than the Cadillac.
Also, the Aston Martin DBX707, Bentley Bentayga Speed, and Lamborghini Urus are full-size SUVs as well, not really mid-size. They are more coupe-like, but, at the same time, bigger than an X6M and a GLE63 "coupe", as well as the Cayenne Turbo GT. British and Italian by heritage, but German by heart, all of these truly make over 700 PS.
DBX707 = 707 PS / 0.90 = 785 PS
Bentayga V8 S = 550 PS / 0.80 = 687 PS
Bentayga W12 Speed = 635 PS / 0.90 = 705 PS
Urus = 650 PS / 0.90 = 722 PS
The Aston and the Lambo are more powerful than the Durango Hellcat as well.