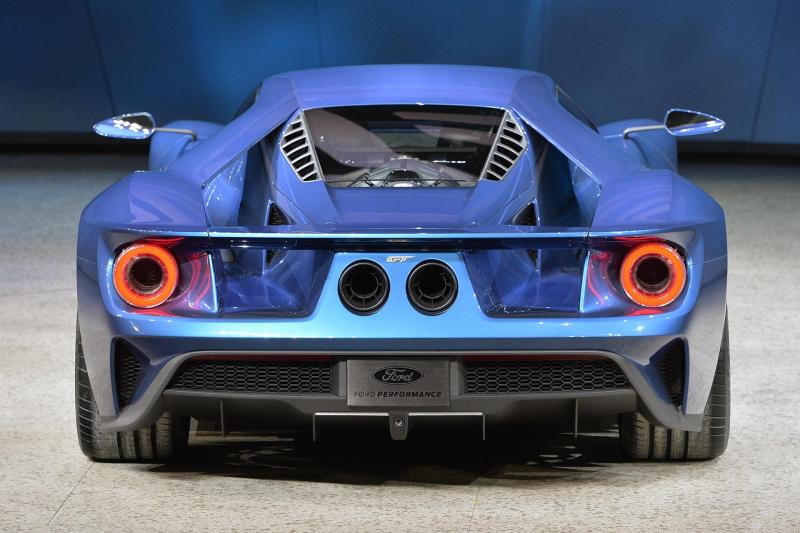 The second generation GT is here and it is not the car you expected. Striking new design makes a further departure from the original Ford GT40 while still retaining some of the classic features like the shape of the optics or the overall proportions.
Like GT40 and 2005 Ford GT, the new GT is a very wide car with a low roofline. It appears to be a lot bigger than most of it's likely rivals - McLaren 650S, Lamborghini Huracan or Ferrari 458. Perhaps it's most striking design feature are the gigantic air scoops which morph into racecar-like air channels and vent the air underneath the rear wing. It all looks very downforce-centric but it is yet to be seen if these features function as good as they look.
The most surprising, progressive and, for some, disappointing feature is the engine. Ford will not be using a V8 in the new GT. Instead, they will utilize a very high output twin turbo V6. This engine will carry the Ecoboost brand as Fords most powerful forced induction engine. Ford promises more than 600 horsepower for the production GT.
The three letter combination "eco" in the Ecoboost brand may seem like an oddity when it comes to supercar powertrain. However, with the introduction of hybrid hypercars like McLaren P1, Ferrari LaFerrari and Porsche 918 in particular, fuel economy became fashionable even for supercar buyers.
It looks like Ford did not want look old fashioned like they would had they stuck with the a great big V8. While electric hybrid powertrain would most likely inflate the production cost beyond Fords target, turbo V6 with a brand name that includes the word "eco" was the perfect compromise for having relatively cheap, conventional technology as well as perceived sophistication and "progressiveness".
If Ford was to redesign the new GT all over again and do it in the current economic climate of crashing oil price and cheap fuel, who knows, maybe they would have gone for a V8 with the good old gas-guzzling supercharged strapped on top of it.
I am OK with V6 supercars. This will certainly not be the first or last. I just hope there are a lot of horses hiding beneath that plus sign next to the "600 hp" in Fords press release. Ideally I would like to see a power figure closer to 650, as soon all of the mid-engine competition will be in the 600 to 700 horsepower range.