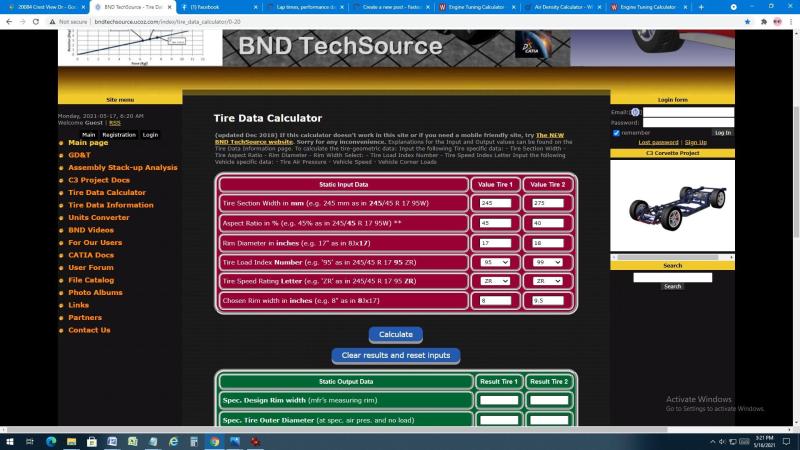 Did you know that the diameter or radius of the tire is not what you think it is? That it is actually "smaller"? I like making my own formulas or equations, or modify existing and standard ones to suit my needs. Like these that I made, for instance:
Dt = (RW/1,270)+ T
S = 0.00023425ERa/AG
S = 0.002975DE/AG
Dt = Tire outer diameter in inches (unmounted)
R = Tire aspect ratio
W = Tire width in millimeters
T = Wheel or rim size in inches
S = Speed in miles per hour
E = Engine rpm
Ra = Tire radius in millimeters
A = Axle ratio
G = Gear ratio
For example:
Car 2019 Mazda MX-5 Miata
Tire 205/45-17 84W
Aspect ratio 45
Width 205 mm
RPM 3,000
Axle ratio 2.866
Gear ratio 1.000 6th gear
Dt = (45*205/1,270) + 17
= (9,225/1,270) + 17
= 7.264 + 17
= 24.26 inches Too big
S = 0.002975DE/AG
S = 0.00297524.263,000/2.866*1.000
= 216.5/2.866
= 75.5 mph -> Too fast
S = 0.00297523.033,000/2.866*1.000
= 205.5/2.866
= 71.7 mph -> Actual speed
S = 0.00023425ERa/AG
= 0.000234253,000292.5/2.866*1.000
= 205.5/2.866
= 71.7 mph -> Actual speed
You see, what you first measured is the tire's outer diameter — unmounted, without the car's weight, including the driver/passengers and whatever cargo pressing down. Once mounted on the car, the radius from the center of the wheel down to the road surface is "smaller" than the radius from the center of the wheel up to the top of the tire. It deforms and deflects, and overall, the radius or diameter is consequently smaller — on average about 5%, depending on the tire, size and rating, and also on the weight or load pressing on it, not to mention speed and tire pressure. Since it's smaller, the speed will have to be slower. I've tried these experiments using different GPS devices and the speed on the speedometer and GPS coincides, give or take +/- 0.1-0.2 mph. Mind you, older cars with mechanical speedometers weren't that accurate — always reading higher than it should not only because they were inherently inaccurate, but also because of Federal law guidelines. Today's speedometers are mostly "electronic" and more accurate. In reading the car's tachometer, be very careful with the phenomenon called "parallax". Since our eyes are usually above the tachometer and maybe a little to the left or right, which will affect an accurate reading, an error of just 25 rpm can result in an error of several tenths of a mile per hour. Also, tachometers are usually accurate enough to be reliable. At least as far as I can tell. Below is the website I use to get a more accurate dimensions of tires once mounted and rolling. Just feed the necessary information. Again, as I often mention in my feeds, tire pressure greatly affects the speed, the top speed result and the rolling resistance. Lastly, I use the "Vehicle Dynamic Rolling Resistance" figure for the radius or diameter. It always works for me. Try my observation or experiment.
https://bndtechsource.wixsite.com/home/tire-data-calculator
https://bndtechsource.wixsite.com/home/tire-data-information