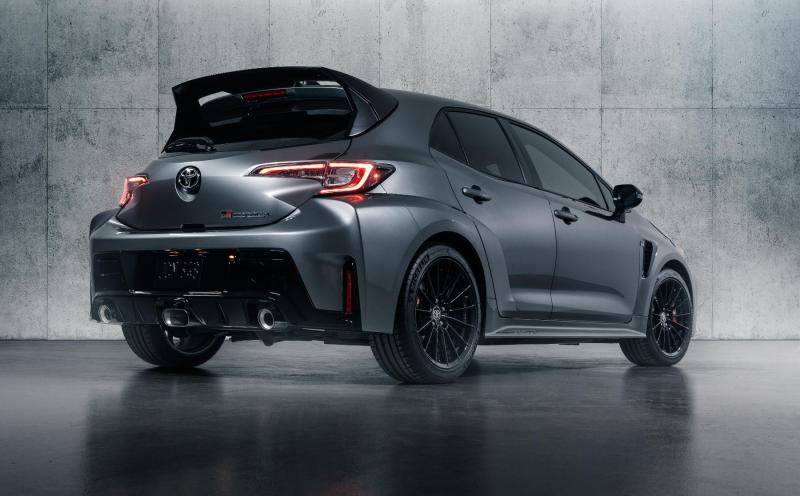 Today Toyota premiered its next performance road car - the Toyota GR Corolla. After successful launch and positive reception of GR Yaris, as well as mid-cycle refresh of GT86 - now called GR86, Toyota has not stopped developing performance oriented road cars for auto enthusiasts.
The GR Corolla, in simple terms, is latest generation Corolla with GR Yaris engine and 4 wheel drive system. As you would expect from a larger and more expensive car, GR Corolla offers more power and more features.
Power output is increased from 272 to 304 metric horsepower (precisely 300 "American" horsepower) but this has been achieved without increasing bore or stroke. 4 wheel drive system now offers more granular driving modes, as well as other improvements and adaptations for the Corolla chassis.
Just like with Yaris, increased track width has translated in aggressive, extruding front and rear wings, setting apart GR Corolla from plain and boring regular Corollas.
Toyota Corolla is in same segment as VW Golf and Honda Civic, therefore it will directly compete with acclaimed performance hatch backs like Golf GTI, Golf R and Honda Civic Type R. Sticking with 3 cylinder engine might mean that Civic Type R will be slightly out of reach in terms of ultimate performance in dry conditions.
On the other hand, it will be great news for existing GR Yaris owners, as they will be able to apply some of these OEM improvements to their cars - including full 304 PS engine upgrade. This also validates the strength and longevity of Toyota's 1.6 liter 3 cylinder engine - something that was debated as soon as the GR Yaris was released.
The issue of reliability has been discussed because of the very high output for an engine of this size. However, there are already several tuning houses in Japan which offer ~300 horsepower upgrade kit and, as far as I know, none have reported high failure rates.
Small 3 cylinder engine with big power and torque is what makes GR Yaris so magical and unique. In a larger and heavier Corolla this magic may not be as "magical". The question of reliability and hitting performance limits will return. Heavier car puts more stress on engine and increased stock power output in Corolla trim will further reduce whatever aftermarket gains there might still be in this 3 cylinder engine.
Putting outright performance and aftermarket potential aside, there is no denying that GR Corolla will be much more practical car. Which one to choose will depend on price and intended use.