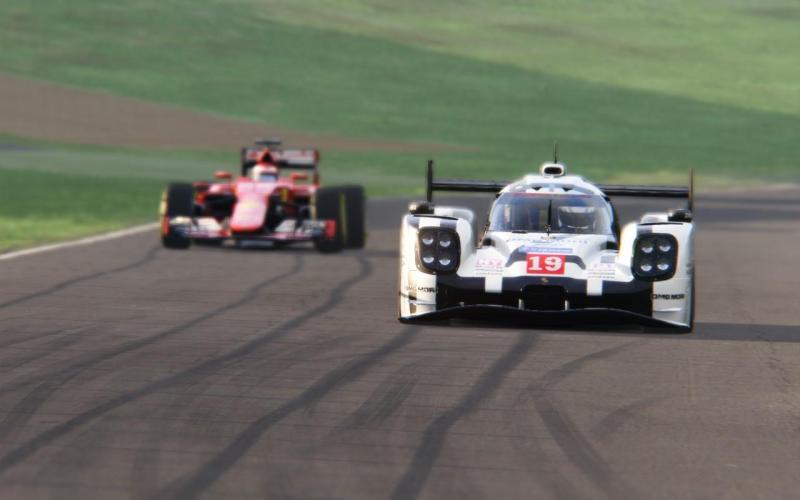 As someone who has followed Formula 1 for years and sees endurance racing only once a year (24 hours of Le Mans), I have grown a bit ignorant thinking that Formula 1 cars should be fastest at everything - fastest in corners, fastest in braking and fastest in acceleration.
While they indeed are fastest around track, and therefore should be considered as fastest overall, same can not be said about acceleration and top speed. If an F1 car and LMP1 car met at traffic lights (I know, very likely...) the outcome would be not what I expected and highly embarrassing for the "master series" Formula 1. The truth is that LMP1 car would beat it in a drag race by a country mile - it wouldn't even look like a race.
Here are some numbers: According to my (generous) estimates, modern F1 car does 0-100 kph in ~2.5 seconds and 0-200 kph in slightly over 5 seconds. According to same estimates and Porsche's data for 919 Hybrid, LMP1 car does 0-100 in less than 2 and 0-200 in 4.5 seconds. This translates to quarter mile differential of ~0.8 seconds, which is difference between a really fast sports-sedan and a supercar - we are talking multiple car-lengths.
Unless F1 dramatically change technical regulations to allow for all wheel drive, LMP1 cars will remain fastest accelerating race cars for years to come. 2017 F1 regulation changes do not address straight line speed, and, if anything, will make F1 cars even slower in straights. Not that they are slow compared to anything other than LMP1 - lets not forget the amazing Valterri Bottas 355 kph speed-trap in Brazilian Grand Prix just few weeks ago.
Here is fascination comparison of estimated acceleration and braking figures for 2015 Ferrari SF15-T F1 car and 2015 LeMans winning Porsche 919 Hybrid LMP1 car. Numbers speak for themselves.