Porsche 924 Carrera GT vs Lotus Esprit Turbo
| Category | 924 Carrera GT | Lotus Esprit Turbo |
| --- | --- | --- |
| Max power (ps / bhp) | 210 / 207 | 213 / 210 |
| Max torque (Nm / lb-ft) | 280 / 207 | 271 / 200 |
| Curb weight (kg / lb) | 1150 / 2535 | 1180 / 2601 |
| Power / tonne (ps / bhp) | 183 / 180 | 180 / 178 |
Acceleration (mph)
| Speed & distance | 924 Carrera GT | Lotus Esprit Turbo |
| --- | --- | --- |
| 0 - 30 mph | 2.4 s | 1.9 s |
| 0 - 40 mph | 4.0 s | 2.9 s |
| 0 - 50 mph | 5.2 s | 4.3 s |
| 0 - 60 mph | 6.5 s | 5.5 s |
| 0 - 70 mph | 8.5 s | 7.4 s |
| 0 - 80 mph | 10.6 s | 9.4 s |
| 0 - 90 mph | 12.9 s | 11.5 s |
| 0 - 100 mph | 16.7 s | 14.7 s |
| 0 - 110 mph | 20.4 s | 19.2 s |
| 0 - 120 mph | 26.4 s | 24.7 s |
| Est. 1/8 mile | 10.5 s @ 80.8 mph | 9.9 s @ 82.6 mph |
Acceleration (kph)
| Speed & distance | 924 Carrera GT | Lotus Esprit Turbo |
| --- | --- | --- |
| 0 - 40 kph | 2.1 s | 1.7 s |
| 0 - 60 kph | 3.5 s | 2.7 s |
| 0 - 80 kph | 5.0 s | 4.3 s |
| 0 - 100 kph | 6.7 s | 6.0 s |
| 0 - 120 kph | 9.5 s | 8.4 s |
| 0 - 140 kph | 12.5 s | 11.5 s |
| 0 - 160 kph | 16.8 s | 15.2 s |
| 0 - 180 kph | 22.1 s | 20.9 s |
| 1000 m | 26.9 s | 26.3 s @ 193.1 kph |
General performance
| Category | 924 Carrera GT | Lotus Esprit Turbo |
| --- | --- | --- |
| Top speed | 241 kph (150 mph) | 245 kph (152 mph) |
| Fuel economy | 6.3 l/100 km (37 mpg US / 45 UK) | 7.3 l/100 km (32 mpg US / 39 UK) |
Summary
| Category | 924 Carrera GT | Lotus Esprit Turbo |
| --- | --- | --- |
| Track Performance | 0 | 0 |
| Straight line speed | 1649 | 2265 |
| Total | 1649 | 2265 |
Verdict
Esprit Turbo is the fastest by considerable margin.
This comparison has been viewed 804 times.
Acceleration graph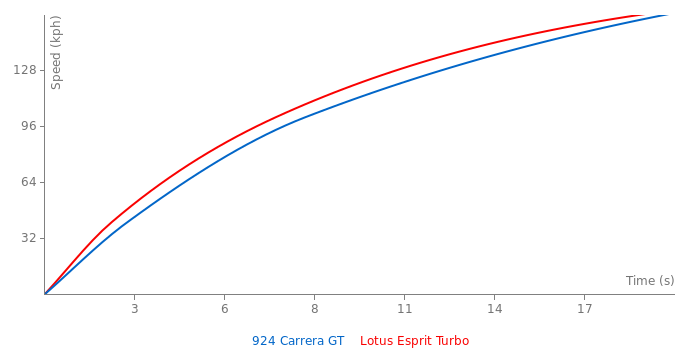 ---
FastestLaps 3w ago
Thanks for bringing this to my attention. There was cheeky little bug that affected not only this page but most likely many others. Had to do with prioritizing real test results over estimates and in some cases caused nothing to appear at all.
---
dr. cosimo 3w ago @FastestLaps
a bug you say ?