Ferrari LaFerrari vs Ferrari SF90 Stradale
| Category | Ferrari LaFerrari | SF90 Stradale |
| --- | --- | --- |
| Engine layout | 6.3 l V12 | 4.0 l V8 |
| Max power (ps / bhp) | 963 / 950 | 1000 / 986 |
| Max torque (Nm / lb-ft) | 900 / 664 | 800 / 590 |
| Curb weight (kg / lb) | 1606 / 3541 | 1656 / 3651 |
| Power / tonne (ps / bhp) | 600 / 591 | 604 / 595 |
Acceleration (mph)
| Speed & distance | Ferrari LaFerrari | SF90 Stradale |
| --- | --- | --- |
| Est. 0 - 30 mph | 1.5 s | 1.2 s |
| 0 - 40 mph | 1.5 s | 1.5 s |
| Est. 0 - 50 mph | 2.5 s | 1.9 s |
| 0 - 60 mph | 2.4 s | 2.0 s |
| 0 - 70 mph | 2.9 s | 3.0 s |
| 0 - 80 mph | 3.4 s | 3.5 s |
| 0 - 90 mph | 4.0 s | 4.1 s |
| 0 - 100 mph | 4.7 s | 4.4 s |
| 0 - 110 mph | 5.5 s | 5.7 s |
| 0 - 120 mph | 6.4 s | 6.6 s |
| 0 - 130 mph | 7.4 s | 7.0 s |
| 0 - 140 mph | 8.5 s | 8.9 s |
| 0 - 150 mph | 9.8 s | 9.8 s |
| Est. 0 - 160 mph | 11.2 s | 12.0 s |
| Est. 0 - 170 mph | 13.3 s | 13.9 s |
| Est. 0 - 180 mph | 14.3 s | 16.6 s |
| Est. 1/8 mile | 6.9 s @ 122.4 mph | 6.3 s @ 116.7 mph |
| 1/4 mile | 9.7 s @ 149.1 mph | 9.3 s @ 150.7 mph |
Acceleration (kph)
| Speed & distance | Ferrari LaFerrari | SF90 Stradale |
| --- | --- | --- |
| Est. 0 - 40 kph | 1.3 s | 0.7 s |
| 0 - 60 kph | 1.6 s | 1.1 s |
| 0 - 80 kph | 1.9 s | 1.6 s |
| 0 - 100 kph | 2.7 s | 2.2 s |
| 0 - 120 kph | 3.3 s | 2.7 s |
| 0 - 130 kph | 3.7 s | 3.1 s |
| 0 - 150 kph | 4.4 s | 3.8 s |
| 0 - 160 kph | 4.8 s | 4.2 s |
| 0 - 180 kph | 5.8 s | 5.2 s |
| 0 - 200 kph | 6.9 s | 6.3 s |
| Est. 0 - 220 kph | 8.3 s | 7.5 s |
| Est. 0 - 240 kph | 9.7 s | 9.1 s |
| Est. 0 - 260 kph | 11.6 s | 10.9 s |
| Est. 0 - 280 kph | 14.0 s | 13.3 s |
| 0 - 300 kph | 15.0 s | 16.4 s |
| Est. 1000 m | 18.2 s @ 312.0 kph | 17.1 s @ 303.4 kph |
| Est. 100 - 200 kph | 4.1 s | 4.2 s |
| Est. 200 - 300 kph | 8.8 s | 9.9 s |
General performance
| Category | Ferrari LaFerrari | SF90 Stradale |
| --- | --- | --- |
| Top speed | 355 kph (221 mph) | 340 kph (211 mph) |
| Est. max acceleration | 1.04 g (10 m/s²) | 1.27 g (12 m/s²) |
| Lateral acceleration | 1.16 g (11 m/s²) | 1.07 g (10 m/s²) |
Summary
| Category | Ferrari LaFerrari | SF90 Stradale |
| --- | --- | --- |
| Track Performance | 278 | 300 |
| Straight line speed | 3779 | 4448 |
| Total | 4056 | 4748 |
Verdict
SF90 Stradale is the fastest by a small margin.
This comparison has been viewed 4.1k times.
Acceleration graph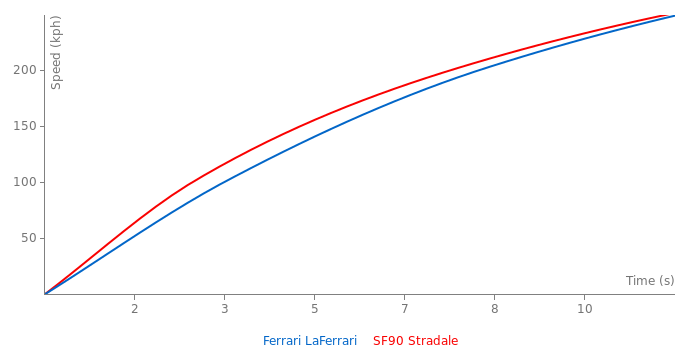 ---
---
---
---
JESSKOEN 7m ago
I disagree, the Laferrari is still a bit better, especially on track
---

benedekpuskas 1y ago
I like the SF90 but the LaFerrari's design is way better, in my opinion.
---