BMW M3 vs Mercedes-Benz C 32 AMG
| Category | C 32 AMG | BMW M3 (E46) |
| --- | --- | --- |
| Engine layout | 3.2 l V6 | 3.2 l R6 |
| Max power (ps / bhp) | 354 / 349 | 343 / 338 |
| Max torque (Nm / lb-ft) | 450 / 332 | 365 / 269 |
| Curb weight (kg / lb) | 1535 / 3384 | 1567 / 3455 |
| Power / tonne (ps / bhp) | 231 / 227 | 219 / 216 |
Summary
| Category | C 32 AMG | BMW M3 (E46) |
| --- | --- | --- |
| Track Performance | 265 | 300 |
| Straight line speed | 901 | 963 |
| Total | 1166 | 1263 |
Verdict
M3 is the fastest by a small margin.
This comparison has been viewed 2.9k times.
Acceleration graph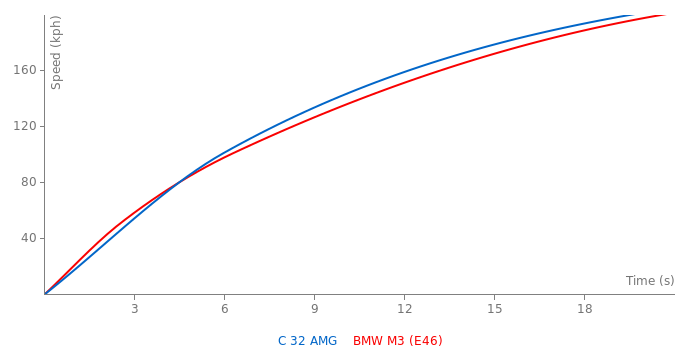 Volodia Ts 2y ago
C32 faster then M3))This data is false))
---
Cdirty2 3y ago
C32 amg faster the information is not accurate.
---
Karthick01 10y ago
BMW E46 M3 won as I Expected.