McLaren 600LT vs Lamborghini Aventador SVJ
| Category | McLaren 600LT | Aventador SVJ |
| --- | --- | --- |
| Engine layout | 3.8 l V8 | 6.5 l V12 |
| Max power (ps / bhp) | 600 / 592 | 770 / 759 |
| Max torque (Nm / lb-ft) | 620 / 457 | 720 / 531 |
| Curb weight (kg / lb) | 1404 / 3095 | 1718 / 3788 |
| Power / tonne (ps / bhp) | 427 / 422 | 448 / 442 |
| Average price | €248,000 | €432,000 |
Acceleration (mph)
| Speed & distance | McLaren 600LT | Aventador SVJ |
| --- | --- | --- |
| 0 - 30 mph | 1.4 s | 0.9 s |
| 0 - 40 mph | 1.9 s | 1.3 s |
| 0 - 50 mph | 2.4 s | 1.8 s |
| 0 - 60 mph | 2.8 s | 2.5 s |
| 0 - 100 mph | 5.8 s | 5.8 s |
| Est. 1/8 mile | 7.1 s @ 113.7 mph | 7.1 s @ 112.5 mph |
| 1/4 mile | 10.4 s | 10.3 s @ 136.4 mph |
| Est. 1/2 mile | 17.2 s @ 167.8 mph | 17.0 s @ 168.4 mph |
Acceleration (kph)
| Speed & distance | McLaren 600LT | Aventador SVJ |
| --- | --- | --- |
| 0 - 40 kph | 1.2 s | 1.2 s |
| 0 - 50 kph | 1.3 s | 1.3 s |
| 0 - 80 kph | 2.3 s | 2.0 s |
| 0 - 100 kph | 2.8 s | 2.8 s |
| 0 - 120 kph | 3.8 s | 3.8 s |
| 0 - 130 kph | 4.1 s | 4.1 s |
| 0 - 140 kph | 4.8 s | 4.9 s |
| 0 - 160 kph | 5.6 s | 5.8 s |
| 0 - 180 kph | 6.8 s | 7.2 s |
| 0 - 200 kph | 8.1 s | 8.2 s |
| 0 - 220 kph | 10.1 s | 10.5 s |
| 0 - 280 kph | 21.2 s | 19.1 s |
| 0 - 300 kph | 24.9 s | 24.0 s |
| 1000 m | 18.9 s @ 275.0 kph | 18.9 s |
Rolling acceleration
| Speed | McLaren 600LT | Aventador SVJ |
| --- | --- | --- |
| 60 - 100 kph (4) | 3.7 s | 3.1 s |
| 60 - 100 kph (5) | 5.5 s | 4.0 s |
| 80 - 120 kph (5) | 4.3 s | 4.0 s |
| 80 - 120 kph (6) | 7.3 s | 4.9 s |
| 80 - 120 kph (7) | 14.0 s | 6.1 s |
| Est. 100 - 140 kph | 1.9 s | 2.1 s |
| Est. 100 - 200 kph | 5.4 s | 5.7 s |
| Est. 200 - 300 kph | 18.2 s | 15.5 s |
General performance
| Category | McLaren 600LT | Aventador SVJ |
| --- | --- | --- |
| Top speed | 328 kph (204 mph) | 354 kph (220 mph) |
| Est. max acceleration | 1.01 g (10 m/s²) | 1.06 g (10 m/s²) |
| 18m slalom | 74.7 kph (46.4 mph) | 73.8 kph (45.9 mph) |
| Fuel economy | 8.1 l/100 km (29 mpg US / 35 UK) | 13.0 l/100 km (18 mpg US / 22 UK) |
| Lateral acceleration | 1.09 g (11 m/s²) | 1.10 g (11 m/s²) |
| 100 kph - 0 | 29 m (96 ft) | 30 m (98 ft) |
| 200 kph - 0 | 117 m (384 ft) | 120 m (392 ft) |
| 60 mph - 0 | 30 m (98 ft) | 29 m (94 ft) |
Summary
| Category | McLaren 600LT | Aventador SVJ |
| --- | --- | --- |
| Track Performance | 770 | 746 |
| Straight line speed | 3424 | 3721 |
| Total | 4194 | 4467 |
Verdict
Aventador SVJ is the fastest by a small margin.
This comparison has been viewed 23.9k times.
Acceleration graph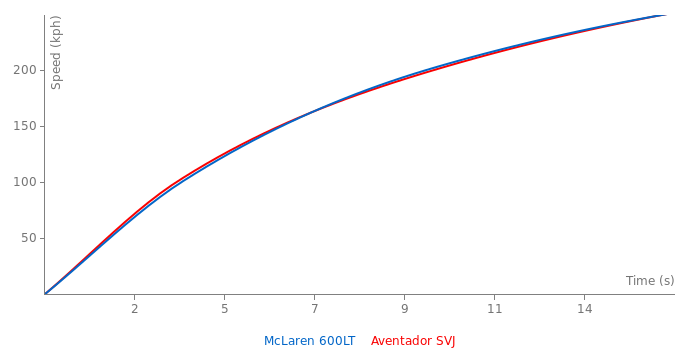 ---
ChironSS 2m ago
When the baby McLaren is pushing the Lamborghini Aventador SVJ and the current flagship so hard then hybridisation for it's replacement cannot come soon enough. I've overlooked the McLaren 600LT but that'll change. I know it's dynamic capabilities have been described as quality. But the straight line speed is just as shocking!