Porsche 918 Spyder vs Ferrari 488 GTB vs Lamborghini Huracán Performante vs McLaren 720S
| Category | 488 GTB | Huracán | 720S | 918 Spyder |
| --- | --- | --- | --- | --- |
| Max power (ps) | 670 | 640 | 720 | 887 |
| Max torque (Nm) | 760 | 600 | 770 | 1280 |
| Curb weight (kg) | 1545 | 1556 | 1429 | 1654 |
| Power / tonne (ps) | 434 | 411 | 504 | 536 |
| Average price (€) | 250k | 232k | 283k | 804k |
Acceleration (mph)
| Speed & distance | 488 GTB | Huracán | 720S | 918 Spyder |
| --- | --- | --- | --- | --- |
| 0 - 40 mph | 1.7 s | 1.3 s | 1.6 s | 1.4 s |
| 0 - 50 mph | 2.2 s | 1.8 s | 2.1 s | 1.8 s |
| 0 - 60 mph | 2.7 s | 2.3 s | 2.5 s | 2.2 s |
| 0 - 70 mph | 3.4 s | 2.9 s | 3.1 s | 2.8 s |
| 0 - 80 mph | 4.2 s | 3.7 s | 3.7 s | 3.4 s |
| 0 - 90 mph | 5.0 s | 4.4 s | 4.4 s | 4.1 s |
| 0 - 100 mph | 5.9 s | 5.4 s | 5.1 s | 4.9 s |
| 0 - 130 mph | 9.9 s | 9.1 s | 7.8 s | 7.9 s |
| 0 - 140 mph | 11.5 s | 10.8 s | 8.9 s | 9.1 s |
| 1/4 mile | 10.5 s | 10.2 s | 9.9 s | 9.8 s |
Acceleration (kph)
| Speed & distance | 488 GTB | Huracán | 720S | 918 Spyder |
| --- | --- | --- | --- | --- |
| 0 - 40 kph | 1.1 s | 1.0 s | 1.1 s | 1.1 s |
| 0 - 50 kph | 1.4 s | 1.1 s | 1.3 s | 1.3 s |
| 0 - 60 kph | 1.6 s | 1.6 s | 1.6 s | 1.5 s |
| 0 - 80 kph | 2.2 s | 1.9 s | 2.3 s | 1.8 s |
| 0 - 100 kph | 2.9 s | 2.5 s | 2.6 s | 2.5 s |
| 0 - 130 kph | 4.0 s | 3.6 s | 3.7 s | 3.6 s |
| 0 - 160 kph | 5.5 s | 5.4 s | 5.0 s | 4.9 s |
| 0 - 180 kph | 6.7 s | 6.7 s | 5.9 s | 5.9 s |
| 0 - 200 kph | 8.1 s | 8.3 s | 7.1 s | 7.0 s |
| 0 - 250 kph | 12.9 s | 14.2 s | 11.4 s | 11.4 s |
| 1000 m | 18.7 s | 18.9 s | 17.9 s | 17.7 s |
| Est. 100 - 200 kph | 5.5 s | 5.9 s | 4.7 s | 4.6 s |
| Est. 200 - 300 kph | 15.5 s | 18.1 s | 12.0 s | 12.8 s |
General performance
| Category | 488 GTB | Huracán | 720S | 918 Spyder |
| --- | --- | --- | --- | --- |
| Top speed | 335 kph | 328 kph | 348 kph | 345 kph |
| Est. max acceleration | 0.99 g | 1.13 g | 1.06 g | 1.25 g |
| 18m slalom | 72.2 kph | 74.2 kph | 73.6 kph | 74.7 kph |
| Lateral acceleration | 1.02 g | 1.12 g | 1.09 g | 1.12 g |
| 100 kph - 0 | 31 m | 30 m | 29 m | 31 m |
| 200 kph - 0 | 121 m | 116 m | 109 m | 123 m |
| 60 mph - 0 | 29 m | 28 m | 28 m | 29 m |
Summary
| Category | 488 GTB | Huracán | 720S | 918 Spyder |
| --- | --- | --- | --- | --- |
| Track Performance | 894 | 975 | 970 | 975 |
| Straight line speed | 2201 | 2584 | 2761 | 2851 |
| Total | 3095 | 3559 | 3731 | 3826 |
Verdict
There is no clear winner in this comparison.
This comparison has been viewed 18.8k times.
Acceleration graph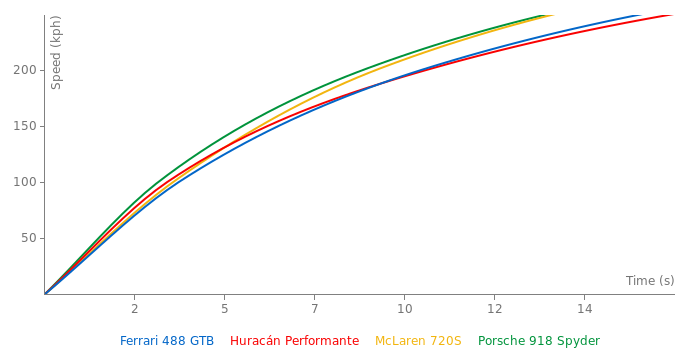 fakekillerfour 4y ago
The Huracán Performante wins on 2/3 tracks, it should have more track points than 918 Spyder
---
---
Fastedee 4y ago
Program is proportionate. So the 3.8 % the Porsche wins at one track outweighs the combined 1.55% the Lambo wins the other two by. If a decathlete wins 66% of events by a tiny fraction but loses the other events hugely he loses. Imagine out throwing someone by 1 m at the javelin and shotput but losing the 100 m 12.3 to 11.1 seconds.