Ford Focus ST vs Nissan Pulsar GTi-R
| Category | Ford Focus ST | Nissan Pulsar GTi-R |
| --- | --- | --- |
| Max power (ps / bhp) | 225 / 222 | 230 / 227 |
| Max torque (Nm / lb-ft) | 320 / 236 | 280 / 207 |
| Curb weight (kg / lb) | 1392 / 3069 | 1220 / 2690 |
| Power / tonne (ps / bhp) | 162 / 159 | 188 / 186 |
Performance
| Category | Ford Focus ST | Nissan Pulsar GTi-R |
| --- | --- | --- |
| 0 - 100 kph | 6.5 s | 5.4 s |
| 0 - 200 kph | 27.6 s | 32.6 s |
| Est. 100 - 200 kph | 21.1 s | 27.2 s |
| Est. 0 - 60 mph | 6.0 s | 4.9 s |
| 0 - 100 mph | 15.7 s | 15.2 s |
| Est. 1/8 mile | 10.3 s @ 82.6 mph | 9.8 s @ 86.4 mph |
| 1/4 mile | 15.0 s | 13.5 s |
| Est. 1/2 mile | 24.5 s @ 119.9 mph | 25.0 s @ 118.1 mph |
| Top speed | 241 kph (150 mph) | 232 kph (144 mph) |
| Est. max acceleration | 0.49 g (5 m/s²) | 0.59 g (6 m/s²) |
Summary
| Category | Ford Focus ST | Nissan Pulsar GTi-R |
| --- | --- | --- |
| Track Performance | 100 | 91 |
| Straight line speed | 819 | 891 |
| Total | 919 | 982 |
Verdict
Pulsar GTi-R is the fastest by a small margin.
This comparison has been viewed 2.9k times.
Acceleration graph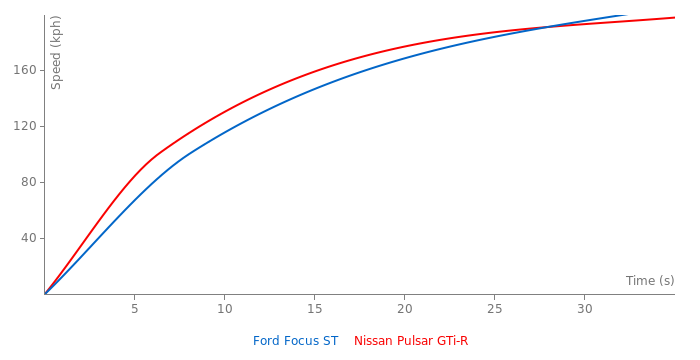 ---
---
Chris 12y ago
i would like to comment that my friend and i were having a nice night out and on the way home a Ford Focus (we were in a dohc 16 valve Nissan pulsar) was right up our arse so the driver slammed on the breaks and the ford focus put its high beams on so the driver did it again. then the Ford Focus passed up at about 130. we tried to get back in front but the Ford was edging us off the road. we fell back a bit, dropped a gear and shot past it at 140, by then it was traveling about 100 and sumthing. we got to 170 and we had like 400m of ground on the Ford Focus.