Aston Martin DBS vs Lotus Exige S 240
| Category | Lotus Exige S 240 | Aston Martin DBS |
| --- | --- | --- |
| Max power (ps / bhp) | 240 / 237 | 517 / 510 |
| Max torque (Nm / lb-ft) | 230 / 170 | 570 / 420 |
| Curb weight (kg / lb) | 944 / 2081 | 1695 / 3737 |
| Power / tonne (ps / bhp) | 254 / 251 | 305 / 301 |
Performance
| Category | Lotus Exige S 240 | Aston Martin DBS |
| --- | --- | --- |
| 0 - 100 kph | 3.8 s | 4.3 s |
| Est. 0 - 60 mph | 3.6 s | 4.1 s |
| 0 - 100 mph | 9.6 s | 8.6 s |
| Est. 1/8 mile | 8.1 s @ 93.8 mph | 8.5 s @ 100.7 mph |
| Top speed | 255 kph (158 mph) | 309 kph (192 mph) |
Summary
| Category | Lotus Exige S 240 | Aston Martin DBS |
| --- | --- | --- |
| Track Performance | 365 | 400 |
| Straight line speed | 428 | 423 |
| Total | 793 | 823 |
Verdict
There is no clear winner in this comparison.
This comparison has been viewed 1.3k times.
Acceleration graph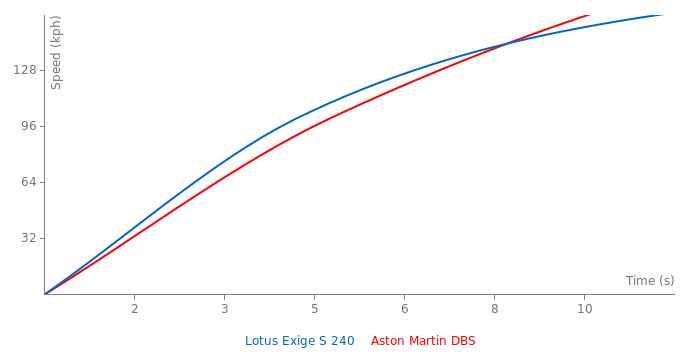 FastestLaps 12y ago
":" was used where "." should have been. (For seperation of seconds and 1/100 seconds). I have corrected that.
---
FastestLaps 12y ago
Because Exige laptime for El Toro track is incorrect.
---
Anonymous 12y ago
this got heaps of points for its track performance. wtf?