BMW X6 M vs Porsche Cayenne Turbo
| Category | BMW X6 M | Cayenne Turbo |
| --- | --- | --- |
| Engine layout | 4.4 l V8 | 4.8 l V8 |
| Max power (ps / bhp) | 555 / 547 | 500 / 493 |
| Max torque (Nm / lb-ft) | 680 / 502 | 700 / 516 |
| Curb weight (kg / lb) | 2250 / 4960 | 2170 / 4784 |
| Power / tonne (ps / bhp) | 247 / 243 | 230 / 227 |
Summary
| Category | BMW X6 M | Cayenne Turbo |
| --- | --- | --- |
| Track Performance | 0 | 0 |
| Straight line speed | 866 | 994 |
| Total | 866 | 994 |
Verdict
Cayenne Turbo is the fastest by a small margin.
This comparison has been viewed 3.8k times.
Acceleration graph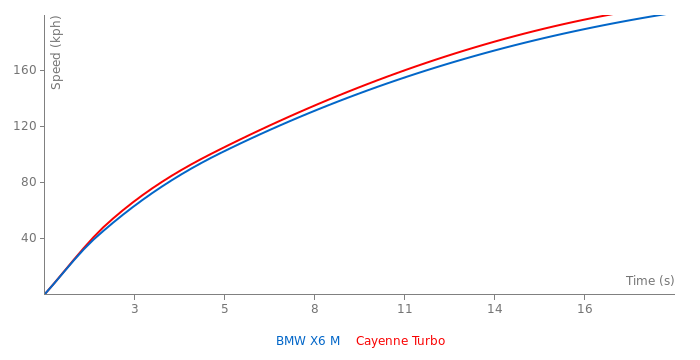 LucaCorbe 1m ago
I think x6 is considerably more beautiful than the Cayenne
---
---
---

Fangio Man 9y ago
That is as expected but I would take the X6 though. IMO, it is the better looking car.
---
e king 11y ago
dats funny,because the x6m is allegic to off roading
---