Porsche 911 GT2 RS vs McLaren Senna (P15)
| Category | Porsche 911 GT2 RS | McLaren Senna (P15) |
| --- | --- | --- |
| Engine layout | 3.8 l B6 | 4.0 l V8 |
| Max power (ps / bhp) | 700 / 690 | 800 / 789 |
| Max torque (Nm / lb-ft) | 750 / 553 | 800 / 590 |
| Curb weight (kg / lb) | 1514 / 3338 | 1364 / 3007 |
| Power / tonne (ps / bhp) | 462 / 456 | 587 / 578 |
| Average price | €293,000 | €922,000 |
Acceleration
| Speed & distance | Porsche 911 GT2 RS | McLaren Senna (P15) |
| --- | --- | --- |
| 0 - 100 kph | 2.6 s | 2.6 s |
| 0 - 200 kph | 7.9 s | 6.8 s |
| 0 - 250 kph | 13.0 s | 11.2 s |
| 0 - 300 kph | 22.9 s | 17.5 s |
| Est. 200 - 300 kph | 14.8 s | 10.7 s |
| 0 - 30 mph | 1.2 s | 1.4 s |
| 0 - 40 mph | 1.6 s | 1.8 s |
| 0 - 50 mph | 2.1 s | 2.3 s |
| 0 - 60 mph | 2.6 s | 2.8 s |
| 0 - 70 mph | 3.2 s | 3.2 s |
| 0 - 80 mph | 3.9 s | 3.8 s |
| 0 - 90 mph | 4.6 s | 4.4 s |
| 0 - 100 mph | 5.5 s | 5.1 s |
| 0 - 110 mph | 6.7 s | 5.9 s |
| 0 - 120 mph | 7.8 s | 6.7 s |
| 0 - 130 mph | 9.1 s | 7.8 s |
| 0 - 140 mph | 10.7 s | 9.0 s |
| 0 - 150 mph | 11.8 s | 10.5 s |
| Est. 1/8 mile | 7.0 s @ 113.7 mph | 6.7 s @ 122.4 mph |
| 1/4 mile | 10.1 s @ 137.9 mph | 10.1 s @ 147.5 mph |
| 1/2 mile | 16.2 s | 15.7 s |
General performance
| Category | Porsche 911 GT2 RS | McLaren Senna (P15) |
| --- | --- | --- |
| Top speed | 342 kph (213 mph) | 340 kph (211 mph) |
| Est. max acceleration | 1.06 g (10 m/s²) | 1.09 g (11 m/s²) |
| 18m slalom | 76.5 kph (47.5 mph) | 74.7 kph (46.4 mph) |
| Lateral acceleration | 1.17 g (11 m/s²) | 1.12 g (11 m/s²) |
Summary
| Category | Porsche 911 GT2 RS | McLaren Senna (P15) |
| --- | --- | --- |
| Track Performance | 1292 | 1383 |
| Straight line speed | 2826 | 3156 |
| Total | 4118 | 4539 |
Verdict
Senna (P15) is the fastest by a small margin.
This comparison has been viewed 10.4k times.
Acceleration graph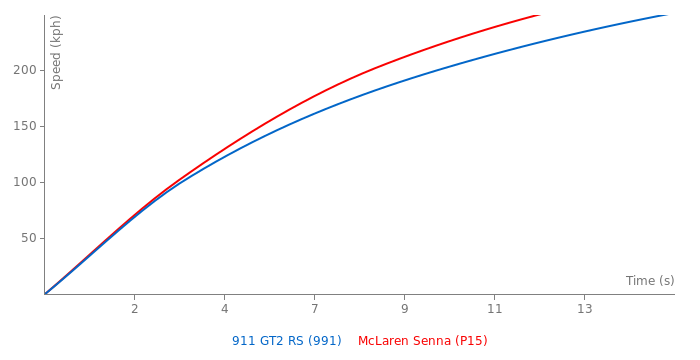 Anonymous 2y ago
Post content redacted by Advanced BS Detector (ABSD)™
---
Dieselflategate 4y ago
Something doesn't add up: the gt2 rs takes 87 feet to stop from 60 but almost TWICE that to stop from 70. and the Senna is only slightly faster around NCM and Silverstone, and the GT2 RS is actually faster in the rain. I'm not sure how this went down, considering the GT2 RS is uses old school tricks to go fast and the Senna has active aero and weighs less and has like 100 more horsepower. To put it this way, the GT2 RS is The Beatles and the Senna is like Drake. Both super fast, or popular in the music reference, but they get their speed (popularity) in different ways
---
---
Dieselflategate 4y ago @Tyrone1
---

saxy 4y ago
The stopping distances are different because of different tests and diffeeent conditions. Cold and hot tires make a huge difference.
In the Mclaren Senna test alongside the gt2rs,
Stopping from 60 and 80mph,
Senna took 111ft, 181ft.
Gt2rs took 108ft 183ft
Pista took 108ft 181ft.
All of the results were close enough to be within the noise, virtually identical. Also The process of "braking at the line" by different drivers yield different results because, some brake too soon, some brake too late.
---
vmax 6y ago
The Mclaren has to be at least 3 seconds a lap faster to justify its terrible looks.
---
---
Tommi95 3y ago
It was. 3.3 s/lap on average, according to the results from this site
---
cosimo 6y ago