Vauxhall VXR8 vs Vauxhall VXR8 Bathurst S
| Category | Vauxhall VXR8 | VXR8 Bathurst S |
| --- | --- | --- |
| Engine layout | 6.0 l V8 | 6.2 l V8 |
| Max power (ps / bhp) | 417 / 412 | 568 / 560 |
| Max torque (Nm / lb-ft) | 550 / 406 | 719 / 530 |
| Curb weight (kg / lb) | 1812 / 3995 | 1830 / 4034 |
| Power / tonne (ps / bhp) | 230 / 227 | 310 / 306 |
Performance
| Category | Vauxhall VXR8 | VXR8 Bathurst S |
| --- | --- | --- |
| 0 - 100 kph | 5.6 s | 4.2 s |
| 0 - 100 mph | 13.2 s | 10.7 s |
| Est. 1/8 mile | 9.5 s @ 86.4 mph | 8.5 s @ 92.0 mph |
| Top speed | 250 kph (155 mph) | 306 kph (190 mph) |
Summary
| Category | Vauxhall VXR8 | VXR8 Bathurst S |
| --- | --- | --- |
| Track Performance | 84 | 100 |
| Straight line speed | 222 | 400 |
| Total | 306 | 500 |
Verdict
VXR8 Bathurst S is the fastest by a huge margin.
This comparison has been viewed 1.4k times.
Acceleration graph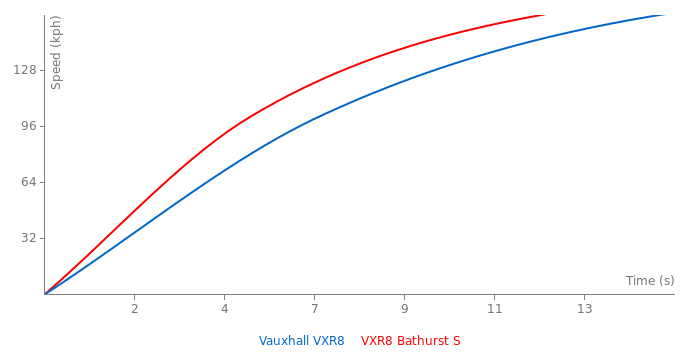 ---

Inline 6 rules 14y ago
Something must be wrong! How can it be that the Bathurst S does 0-160 in 10.7 s while the way weaker VXR does 0-200 in 13.5 s?