Audi R8 V10 Plus vs Audi R8 V10 RWS
| Category | Audi R8 V10 RWS | Audi R8 V10 Plus |
| --- | --- | --- |
| Engine layout | 5.2 l V10 | 5.2 l V10 |
| Max power (ps / bhp) | 540 / 533 | 610 / 602 |
| Max torque (Nm / lb-ft) | 540 / 398 | 560 / 413 |
| Curb weight (kg / lb) | 1597 / 3521 | 1629 / 3591 |
| Power / tonne (ps / bhp) | 338 / 334 | 375 / 370 |
| Average price | €147,000 | €197,000 |
Acceleration
| Speed & distance | Audi R8 V10 RWS | Audi R8 V10 Plus |
| --- | --- | --- |
| 0 - 40 kph | 1.5 s | 1.0 s |
| 0 - 50 kph | 1.7 s | 1.2 s |
| 0 - 60 kph | 1.9 s | 1.5 s |
| 0 - 100 kph | 3.4 s | 2.8 s |
| 0 - 120 kph | 4.6 s | 3.8 s |
| 0 - 130 kph | 5.2 s | 4.3 s |
| 0 - 160 kph | 6.9 s | 5.9 s |
| 0 - 180 kph | 9.2 s | 7.5 s |
| 0 - 200 kph | 10.4 s | 9.1 s |
| 0 - 250 kph | 17.5 s | 15.4 s |
| 0 - 300 kph | 36.8 s | 28.8 s |
| 1000 m | 20.3 s @ 262.5 kph | 19.4 s |
| 70 - 90 kph | 2.1 s | 1.8 s |
| 70 - 120 kph | 3.7 s | 3.1 s |
| 70 - 140 kph | 5.0 s | 4.2 s |
| Est. 100 - 200 kph | 7.3 s | 6.6 s |
| Est. 200 - 300 kph | 25.9 s | 19.9 s |
| Est. 1/8 mile | 7.8 s @ 105.0 mph | 7.4 s @ 109.4 mph |
| 1/4 mile | 11.3 s @ 129.2 mph | 10.5 s |
| Est. 1/2 mile | 18.6 s @ 156.6 mph | 17.8 s @ 161.6 mph |
| Est. 1 mile | 30.0 s @ 178.3 mph | 28.4 s @ 184.5 mph |
Summary
| Category | Audi R8 V10 RWS | Audi R8 V10 Plus |
| --- | --- | --- |
| Track Performance | 272 | 300 |
| Straight line speed | 2121 | 2899 |
| Total | 2393 | 3199 |
Verdict
R8 V10 Plus is the fastest by considerable margin.
This comparison has been viewed 313 times.
Acceleration graph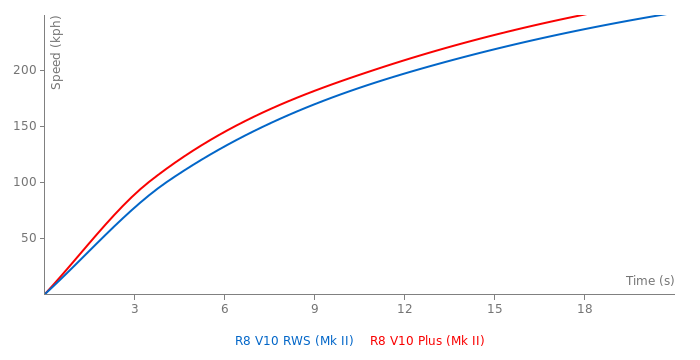 ---
---

---

BR2+ 3y ago @saxy
Most people by the RWS for the Rwd experience, Most people in general by an R8 for the status symbol unfortunately, If your in any version of an R its gonna be faster then 99% of all cars anyway, So if your in any form of an R8, Your gonna be almost 100% faster then any car you see all day, So speed isnt really an option if one says slow, Id be happy with any version. I mean acceleration is what you want, Just buy a TT-RS which isnt that much slower, And you would be saving 3 times as much, But again, Status.