Lamborghini Huracán Evo vs BMW M8 Competition
| Category | BMW M8 Competition | Huracán Evo |
| --- | --- | --- |
| Engine layout | 4.4 l V8 | 5.2 l V10 |
| Max power (ps / bhp) | 625 / 617 | 640 / 631 |
| Max torque (Nm / lb-ft) | 750 / 553 | 600 / 443 |
| Curb weight (kg / lb) | 1893 / 4173 | 1619 / 3569 |
| Power / tonne (ps / bhp) | 330 / 326 | 395 / 390 |
| Average price | €178,000 | €235,000 |
Acceleration (mph)
| Speed & distance | BMW M8 Competition | Huracán Evo |
| --- | --- | --- |
| 0 - 30 mph | 1.0 s | 1.0 s |
| 0 - 40 mph | 1.4 s | 1.5 s |
| 0 - 50 mph | 2.0 s | 1.9 s |
| 0 - 60 mph | 2.5 s | 2.4 s |
| 0 - 70 mph | 3.3 s | 3.2 s |
| 0 - 80 mph | 4.2 s | 4.0 s |
| 0 - 90 mph | 5.1 s | 4.8 s |
| 0 - 100 mph | 6.3 s | 5.5 s |
| 0 - 150 mph | 15.5 s | 13.5 s |
| Est. 1/8 mile | 7.6 s @ 107.5 mph | 7.2 s @ 110.0 mph |
| 1/4 mile | 10.7 s @ 129.0 mph | 10.3 s |
| Est. 1/2 mile | 18.3 s @ 156.0 mph | 17.5 s @ 164.0 mph |
Acceleration (kph)
| Speed & distance | BMW M8 Competition | Huracán Evo |
| --- | --- | --- |
| 0 - 40 kph | 1.1 s | 0.7 s |
| 0 - 50 kph | 1.2 s | 1.3 s |
| 0 - 80 kph | 2.3 s | 1.9 s |
| 0 - 100 kph | 3.0 s | 2.6 s |
| 0 - 130 kph | 4.7 s | 4.0 s |
| 0 - 150 kph | 5.9 s | 5.1 s |
| 0 - 160 kph | 6.7 s | 5.7 s |
| 0 - 180 kph | 8.4 s | 7.2 s |
| 0 - 200 kph | 10.1 s | 8.9 s |
| 0 - 220 kph | 12.8 s | 11.1 s |
| 0 - 250 kph | 17.5 s | 15.2 s |
| 1000 m | 20.0 s @ 265.0 kph | 19.1 s @ 271.6 kph |
Rolling acceleration
| Speed | BMW M8 Competition | Huracán Evo |
| --- | --- | --- |
| 60 - 100 kph (4) | 2.3 s | 2.8 s |
| 60 - 100 kph (5) | 3.1 s | 3.9 s |
| 80 - 120 kph (4) | 2.4 s | 2.8 s |
| 80 - 120 kph (5) | 3.0 s | 3.8 s |
| 80 - 120 kph (6) | 4.1 s | 5.4 s |
| 80 - 120 kph (7) | 5.2 s | 6.3 s |
| 80 - 160 kph (4) | 5.1 s | 5.5 s |
| 80 - 160 kph (5) | 6.4 s | 7.7 s |
| 80 - 160 kph (6) | 8.6 s | 10.8 s |
General performance
| Category | BMW M8 Competition | Huracán Evo |
| --- | --- | --- |
| Top speed | 305 kph (190 mph) | 328 kph (204 mph) |
| Est. max acceleration | 0.98 g (10 m/s²) | 1.06 g (10 m/s²) |
| 18m slalom | 71.2 kph (44.2 mph) | 72.5 kph (45.0 mph) |
| Fuel economy | 9.5 l/100 km (25 mpg US / 30 UK) | 12.0 l/100 km (20 mpg US / 24 UK) |
| Lateral acceleration | 1.03 g (10 m/s²) | 1.12 g (11 m/s²) |
Summary
| Category | BMW M8 Competition | Huracán Evo |
| --- | --- | --- |
| Track Performance | 534 | 600 |
| Straight line speed | 3746 | 3856 |
| Total | 4280 | 4456 |
Verdict
There is no clear winner in this comparison.
This comparison has been viewed 1.8k times.
Acceleration graph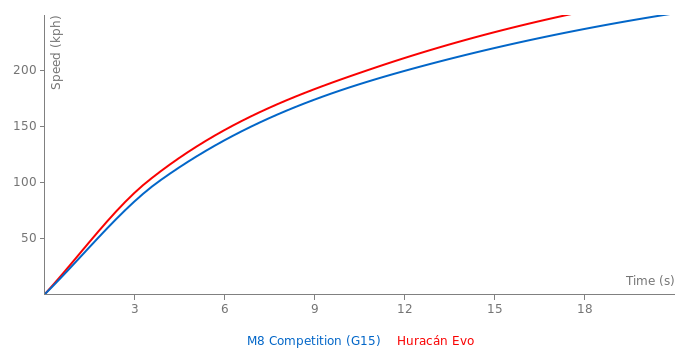 Zarby 11m ago
Thats bull shit. That m8 atleast has 700hp
---
Hoppelmoppel123 1y ago
Is my car faster than a Huracan if it goes from 80-160 kph in 6. Gear in 9.8 s?
---
---
---

Xbow1 1y ago @SpeedKing
I mean like come on man, the grand tourer M8 is supposed to compete against...oh I don't know... OTHER GRAND TOURERS??? Like the Aston Martin DB11 or DBS Superleggera, maybe even the Bentley Continental Supersports. It should not compete against any of the cars it is pitted against on this website: the Huracan?? The AMG GT Black Series?? r u srs.
---

SpeedKing 1y ago @Xbow1
The biggest crock of shit with the comparisons is the inclusion of rolling acceleration using higher gears which is pointless in deciding which car is quicker. My car can beat your car from 60-100 km/h in 5th gear because i've got a turbo and your car is nat asp so therefore my car is faster. Seriously, that is simply ludicrous nonsense pfft..
---
Lambolover 1y ago
What in the actual frick?
M8 is fastest?
lmao
---

---
---