BMW M4 vs Cadillac ATS-V Coupe
| Category | Cadillac ATS-V Coupe | BMW M4 |
| --- | --- | --- |
| Max power (ps / bhp) | 470 / 464 | 431 / 425 |
| Max torque (Nm / lb-ft) | 603 / 445 | 550 / 406 |
| Curb weight (kg / lb) | 1703 / 3754 | 1582 / 3488 |
| Power / tonne (ps / bhp) | 276 / 272 | 272 / 269 |
| Average price | €78,000 | €88,000 |
Acceleration (kph)
| Speed & distance | Cadillac ATS-V Coupe | BMW M4 |
| --- | --- | --- |
| 0 - 40 kph | 1.5 s | 1.4 s |
| 0 - 50 kph | 1.8 s | 1.7 s |
| 0 - 100 kph | 4.0 s | 4.0 s |
| 0 - 130 kph | 6.2 s | 6.0 s |
| 0 - 160 kph | 8.9 s | 8.8 s |
| 0 - 200 kph | 14.0 s | 12.9 s |
Rolling acceleration
| Speed | Cadillac ATS-V Coupe | BMW M4 |
| --- | --- | --- |
| 60 - 100 kph (4) | 3.0 s | 3.7 s |
| 60 - 100 kph (5) | 4.3 s | 4.7 s |
| 80 - 120 kph (4) | 3.3 s | 3.5 s |
| 80 - 120 kph (5) | 4.1 s | 4.3 s |
| 80 - 120 kph (6) | 5.7 s | 5.3 s |
| 80 - 120 kph (7) | 8.1 s | 7.6 s |
| 80 - 160 kph (4) | 7.4 s | 7.3 s |
| 80 - 160 kph (5) | 9.4 s | 9.3 s |
| 80 - 160 kph (6) | 12.5 s | 11.7 s |
| 80 - 160 kph (7) | 16.1 s | 16.0 s |
| Est. 100 - 200 kph | 10.3 s | 9.5 s |
General performance
| Category | Cadillac ATS-V Coupe | BMW M4 |
| --- | --- | --- |
| Top speed | 304 kph (189 mph) | 280 kph (174 mph) |
| Est. 0 - 100 mph - 0 | 12.9 s @ 912 ft | 15.4 s @ 1276 ft |
| Est. max acceleration | 0.73 g (7 m/s²) | 0.72 g (7 m/s²) |
| 18m slalom | 69.9 kph (43.4 mph) | 71.1 kph (44.2 mph) |
| Fuel economy | 13.1 l/100 km (18 mpg US / 22 UK) | 7.6 l/100 km (31 mpg US / 37 UK) |
| 100 kph - 0 | 33 m (107 ft) | 33 m (109 ft) |
| 200 kph - 0 | 136 m (446 ft) | 140 m (461 ft) |
| 70 mph - 0 | 47 m (154 ft) | 46 m (150 ft) |
Summary
| Category | Cadillac ATS-V Coupe | BMW M4 |
| --- | --- | --- |
| Track Performance | 486 | 495 |
| Straight line speed | 3141 | 3276 |
| Total | 3627 | 3771 |
Verdict
There is no clear winner in this comparison.
This comparison has been viewed 2.1k times.
Acceleration graph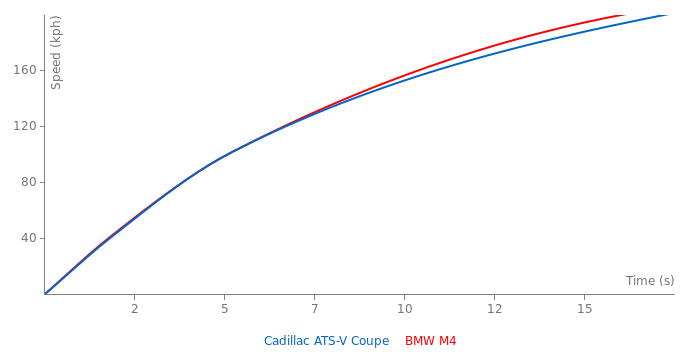 ---
hostboy 3y ago
Cadillacs are rich basketball playin chicken eaters and German cars are hotsy popular golf playing starbucks lovers. K? Here's what happened: the ATS-V and the BMW M4 had sex on accident without a ****ing condom, and M4's boobies popped while ATS-V's ***** gets cut off. The baby they made is called Policebrutality.