Porsche 918 Spyder vs Ferrari LaFerrari
| Category | Porsche 918 Spyder | Ferrari LaFerrari |
| --- | --- | --- |
| Engine layout | 4.6 l V8 | 6.3 l V12 |
| Max power (ps / bhp) | 887 / 875 | 963 / 950 |
| Max torque (Nm / lb-ft) | 1280 / 944 | 900 / 664 |
| Curb weight (kg / lb) | 1671 / 3684 | 1606 / 3541 |
| Power / tonne (ps / bhp) | 531 / 524 | 600 / 591 |
Acceleration (mph)
| Speed & distance | Porsche 918 Spyder | Ferrari LaFerrari |
| --- | --- | --- |
| 0 - 30 mph | 1.0 s | 1.5 s |
| 0 - 40 mph | 1.4 s | 1.5 s |
| 0 - 50 mph | 1.8 s | 2.5 s |
| 0 - 60 mph | 2.2 s | 2.4 s |
| 0 - 70 mph | 2.8 s | 2.9 s |
| 0 - 80 mph | 3.4 s | 3.4 s |
| 0 - 90 mph | 4.1 s | 4.0 s |
| 0 - 100 mph | 4.9 s | 4.7 s |
| 0 - 110 mph | 5.8 s | 5.5 s |
| 0 - 120 mph | 6.7 s | 6.4 s |
| 0 - 130 mph | 7.9 s | 7.4 s |
| 0 - 140 mph | 9.1 s | 8.5 s |
| 0 - 150 mph | 10.5 s | 9.8 s |
| 0 - 160 mph | 12.2 s | 11.2 s |
| 0 - 170 mph | 14.4 s | 13.3 s |
| 0 - 180 mph | 17.5 s | 14.3 s |
| 0 - 200 mph | 29.7 s | 19.8 s |
| 1/4 mile | 9.8 s @ 148.5 mph | 9.7 s @ 149.1 mph |
Acceleration (kph)
| Speed & distance | Porsche 918 Spyder | Ferrari LaFerrari |
| --- | --- | --- |
| 0 - 40 kph | 1.1 s | 1.3 s |
| 0 - 50 kph | 1.3 s | 1.1 s |
| 0 - 60 kph | 1.5 s | 1.6 s |
| 0 - 80 kph | 1.8 s | 1.9 s |
| 0 - 100 kph | 2.5 s | 2.7 s |
| 0 - 120 kph | 3.2 s | 3.3 s |
| 0 - 130 kph | 3.6 s | 3.7 s |
| 0 - 140 kph | 4.0 s | 4.0 s |
| 0 - 160 kph | 4.9 s | 4.8 s |
| 0 - 180 kph | 5.9 s | 5.8 s |
| 0 - 200 kph | 7.0 s | 6.9 s |
| 0 - 220 kph | 8.5 s | 8.3 s |
| 0 - 240 kph | 10.0 s | 9.7 s |
| 0 - 250 kph | 11.4 s | 10.5 s |
| 0 - 260 kph | 12.2 s | 11.6 s |
| 0 - 280 kph | 15.2 s | 14.0 s |
| 0 - 300 kph | 19.1 s | 15.0 s |
| 100 m | 4.4 s @ 149.5 kph | 4.8 s @ 150.0 kph |
| 1000 m | 17.7 s @ 296.0 kph | 18.2 s @ 312.0 kph |
| Est. 100 - 200 kph | 4.7 s | 4.1 s |
| Est. 200 - 300 kph | 12.8 s | 8.8 s |
Braking distance
| Speed | Porsche 918 Spyder | Ferrari LaFerrari |
| --- | --- | --- |
| 60 kph - 0 | 13 m (42 ft) | 12 m (38 ft) |
| 100 kph - 0 | 29 m (96 ft) | 37 m (121 ft) |
| 120 kph - 0 | 45 m (146 ft) | 41 m (135 ft) |
| 140 kph - 0 | 59 m (193 ft) | 55 m (181 ft) |
| 160 kph - 0 | 76 m (249 ft) | 72 m (235 ft) |
| 190 kph - 0 | 111 m (364 ft) | 97 m (318 ft) |
| 200 kph - 0 | 123 m (403 ft) | 126 m (415 ft) |
| 60 mph - 0 | 29 m (94 ft) | 29 m (95 ft) |
| 70 mph - 0 | 43 m (142 ft) | 41 m (136 ft) |
General performance
| Category | Porsche 918 Spyder | Ferrari LaFerrari |
| --- | --- | --- |
| Top speed | 351 kph (218 mph) | 355 kph (221 mph) |
| Est. 0 - 100 mph - 0 | 9.2 s @ 656 ft | 9.2 s @ 653 ft |
| Est. max acceleration | 1.17 g (12 m/s²) | 1.04 g (10 m/s²) |
| Lateral acceleration | 1.12 g (11 m/s²) | 1.16 g (11 m/s²) |
Summary
| Category | Porsche 918 Spyder | Ferrari LaFerrari |
| --- | --- | --- |
| Track Performance | 499 | 479 |
| Straight line speed | 4619 | 4887 |
| Total | 5118 | 5366 |
Verdict
There is no clear winner in this comparison.
This comparison has been viewed 7.9k times.
Acceleration graph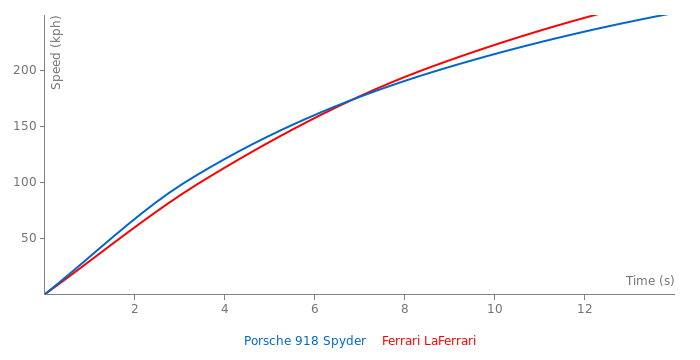 Nodz 2y ago
Laferrari's top speed is more than 370kph there is a video
---
---
Diabolicus 8y ago
LaFerrari is much faster only on a straight line. It is more powerful, it is lighter than 918 but... Porsche is faster on track! 918 is unbelievable!
LaFerrari is the best way to show how Porsche is a masterpiece.
Ferrari management is terrified by 918... they denied to any of LaFerrari owners to make track comparisons against Porsche.
---
Karthick01 10y ago
I Think That Power/weight ratio is Causing The Problem Here,I Think The LaFerrari is Faster.
---
sarmadnaeem 4y ago
The Porsche has AWD and has 4 wheel steering, hence helping it to sling out of corners faster, this is why on a power circuit like Silverstone the times are very close
---
Anonymous 1m ago
Post content redacted by Advanced BS Detector (ABSD)™