Porsche 911 GT2 RS vs Ferrari 488 Pista
| Category | Porsche 911 GT2 RS | Ferrari 488 Pista |
| --- | --- | --- |
| Max power (ps / bhp) | 700 / 690 | 720 / 710 |
| Max torque (Nm / lb-ft) | 750 / 553 | 770 / 568 |
| Curb weight (kg / lb) | 1504 / 3316 | 1476 / 3254 |
| Power / tonne (ps / bhp) | 465 / 459 | 488 / 481 |
| Average price | €285,000 | €304,000 |
Acceleration (mph)
| Speed & distance | Porsche 911 GT2 RS | Ferrari 488 Pista |
| --- | --- | --- |
| 0 - 30 mph | 1.2 s | 1.2 s |
| 0 - 40 mph | 1.6 s | 1.7 s |
| 0 - 50 mph | 2.1 s | 2.2 s |
| 0 - 60 mph | 2.6 s | 2.7 s |
| 0 - 70 mph | 3.2 s | 3.2 s |
| 0 - 80 mph | 3.9 s | 3.8 s |
| 0 - 90 mph | 4.6 s | 4.4 s |
| 0 - 100 mph | 5.5 s | 5.2 s |
| 0 - 110 mph | 6.7 s | 6.1 s |
| 0 - 120 mph | 7.8 s | 7.1 s |
| 0 - 130 mph | 9.1 s | 8.2 s |
| 0 - 140 mph | 10.7 s | 9.5 s |
| 0 - 150 mph | 11.8 s | 11.0 s |
| Est. 1/8 mile | 7.0 s @ 114.3 mph | 6.9 s @ 117.4 mph |
| 1/4 mile | 10.3 s @ 139.3 mph | 10.1 s @ 144.1 mph |
Acceleration (kph)
| Speed & distance | Porsche 911 GT2 RS | Ferrari 488 Pista |
| --- | --- | --- |
| 0 - 40 kph | 1.1 s | 1.2 s |
| 0 - 100 kph | 2.7 s | 2.7 s |
| 0 - 160 kph | 5.5 s | 5.4 s |
| 0 - 200 kph | 7.9 s | 7.4 s |
| 0 - 300 kph | 22.9 s | 20.6 s |
| Est. 100 - 200 kph | 5.4 s | 4.8 s |
| Est. 200 - 300 kph | 14.7 s | 13.0 s |
General performance
| Category | Porsche 911 GT2 RS | Ferrari 488 Pista |
| --- | --- | --- |
| Top speed | 342 kph (213 mph) | 342 kph (213 mph) |
| Est. 0 - 100 mph - 0 | 9.5 s @ 686 ft | 9.3 s @ 659 ft |
| Est. max acceleration | 1.08 g (11 m/s²) | 1.02 g (10 m/s²) |
| 18m slalom | 76.5 kph (47.5 mph) | 73.6 kph (45.7 mph) |
| Fuel economy | 9.8 l/100 km (24 mpg US / 29 UK) | 11.5 l/100 km (20 mpg US / 25 UK) |
| Lateral acceleration | 1.17 g (11 m/s²) | 1.10 g (11 m/s²) |
Summary
| Category | Porsche 911 GT2 RS | Ferrari 488 Pista |
| --- | --- | --- |
| Track Performance | 1063 | 1057 |
| Straight line speed | 3225 | 3401 |
| Total | 4288 | 4458 |
Verdict
There is no clear winner in this comparison.
This comparison has been viewed 13.7k times.
Acceleration graph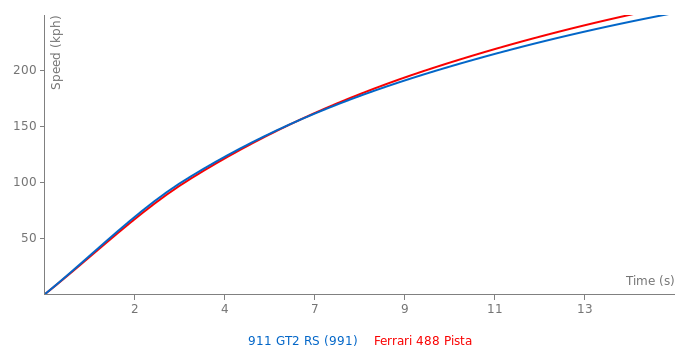 Nodz 2w ago
I thought the GTR fan boys were the worst...but man these Porsche fanboys are so dumb
---
---
---
---
The Racer 1y ago
The average Ferrari fanboy always mocks 911 considering the Porsche as "tuned" VW Beetle. Well, this top range track-ready "911-beetle" is capable to face the top range track-ready Ferrari.
And this happens... notwithstanding 911 is heavier and less powerful of the italian counterpart!
I think there could be two possible explanations for this fact:
1) Ferrari is clearly overrated.
2) 911 is clearly underrated.
Let's think what a mid-engined 911 GT2 RS could be capable of doing...
Maybe it could cut in two halves the 488 Pista on a track!
Honestly, I don't think a rear-engined Pista could be capable of doing the same against the GT2 RS.
---
---
M Power 2y ago
Pista is aerodynamic (good for high speeds) and GT2 RS had more downforce (good for braking and others things).
---
Rich Lee 2y ago
Any of these cars are way beyond my means, but not my friends. Last week I had the chance to drive a friend's 488 Pista up & down part of my daily commute, Page Mill Rd. in the Santa Cruz Mountains. There is an 8 mile section with a 2000' elevation change in 8 miles with 108 turns. He didn't know I was a former SCCA road race & rally driver. My test drive surprised him and amazed me how smooth and neutral the car was in power, handling and braking. I normally drive that section in a mildly-tuned Audi A4. He said the next test drive should be in his Lamborghini Huracan Performante for an AWD comparison, and possibly in his Ferrari F12 TDF. I will then ask another friend if we can test drive his 911GT2 RS on the same road. With luck, I will post an amateur real-world, "first drive" comparison of all 3 cars/drive setups if anyone (other than me) is interested
---
Tommi95 2y ago
I am so glad Ferrari won. I mean, I love Porsche. It's a bran that I love and every car it produces is great, from the 718 to the 911 to the Panamera to the SUVs to the 918. I love it. But Ferrari is an Italian, ancient brand which does only top of the range cars and it's incredible how despite Italian economic problems it still manages to do amazing cars. And in this case Ferrari 488 Pista is the better car. Faster on a track, on a straight line, classier (no rear wing). Porsche has a handicap though (rear engine instead of mid engine and 6 cylindres instead of 8) do to being a 911 and it's amazing on its own.
---
---
DrDuke 2y ago
How do you calculate this Acceleration graph?
I fixed the gt2rs times a bit to be more reasonable. Otherwise I just took the mph numbers listened.