Ferrari F40 vs Dodge Challenger SRT-8 Hellcat
| Category | Challenger SRT-8 | Ferrari F40 |
| --- | --- | --- |
| Engine layout | 6.4 l V8 | 2.9 l V8 |
| Max power (ps / bhp) | 717 / 707 | 478 / 471 |
| Max torque (Nm / lb-ft) | 881 / 650 | 575 / 424 |
| Curb weight (kg / lb) | 1960 / 4321 | 1283 / 2829 |
| Power / tonne (ps / bhp) | 366 / 361 | 373 / 367 |
Acceleration (mph)
| Speed & distance | Challenger SRT-8 | Ferrari F40 |
| --- | --- | --- |
| 0 - 60 mph | 3.6 s | 3.8 s |
| 0 - 100 mph | 7.6 s | 7.7 s |
| 0 - 150 mph | 17.0 s | 16.2 s |
| Est. 1/8 mile | 8.0 s @ 105.6 mph | 8.4 s @ 103.1 mph |
| 1/4 mile | 11.7 s | 11.7 s @ 126.5 mph |
| Est. 1/2 mile | 18.7 s @ 158.4 mph | 18.9 s @ 159.7 mph |
| Est. 1 mile | 30.3 s @ 179.0 mph | 29.6 s @ 183.9 mph |
Acceleration (kph)
| Speed & distance | Challenger SRT-8 | Ferrari F40 |
| --- | --- | --- |
| 0 - 80 kph | 3.2 s | 2.9 s |
| 0 - 100 kph | 3.9 s | 4.0 s |
| 0 - 160 kph | 7.3 s | 8.0 s |
| 0 - 180 kph | 8.8 s | 9.3 s |
| 0 - 200 kph | 10.7 s | 10.4 s |
| 0 - 300 kph | 38.0 s | 31.0 s |
| 1000 m | 20.8 s | 20.2 s @ 265.0 kph |
| 60 - 100 kph (4) | 3.2 s | 6.3 s |
| 80 - 120 kph (5) | 4.3 s | 8.5 s |
| Est. 100 - 200 kph | 6.8 s | 6.8 s |
| Est. 200 - 300 kph | 27.3 s | 19.8 s |
General performance
| Category | Challenger SRT-8 | Ferrari F40 |
| --- | --- | --- |
| Top speed | 320 kph (199 mph) | 327 kph (203 mph) |
| Est. max acceleration | 0.77 g (8 m/s²) | 0.68 g (7 m/s²) |
| Fuel economy | 14.7 l/100 km (16 mpg US / 19 UK) | 8.6 l/100 km (27 mpg US / 33 UK) |
| Lateral acceleration | 0.94 g (9 m/s²) | 1.01 g (10 m/s²) |
Summary
| Category | Challenger SRT-8 | Ferrari F40 |
| --- | --- | --- |
| Track Performance | 82 | 100 |
| Straight line speed | 2372 | 2366 |
| Total | 2454 | 2466 |
Verdict
There is no clear winner in this comparison.
This comparison has been viewed 3.1k times.
Acceleration graph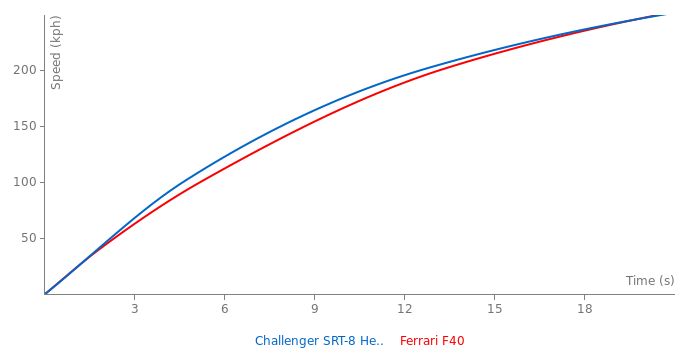 ---

---
Power-to-weight 9y ago
It's not power-to-weight ratio that makes a car faster, it's top speed that does. Plus you're comparing an '80s car to a '10s car.
---

---
Piorun 9y ago
The word "chose" is here to blame, beceause it not say what we think behind of that.
If we talking about dreams, unlimited moneys, etc F40 is superior, it have history, soul, its amazing on track, wonderful toy.
But in real life... things are more comlicated, unless You are Joe Leno with his crew and money, You simply cloud not drive it everyday.
In other hand new Hellcat, its running costs are very high, but still possible for average guy. And its more usable in real life situations with it boot and 5 seats.
So for a dream car i chose F40, for real life Dodge wins.
---

BR2+ 9y ago
I would do that, That would be the first thing i would do, I wouldnt keep it, But i wouldnt buy 10 Challengers.
And i have to disagree, Anybody looking to buy a performance car, Looks at all options, Even if they are buying a classic, Unless your sole decision is Ferrari itself, Or a particular brand, Or your just one of those brand whores or fanboys who wont look at anything else for "Certain" reasons. At least thats how i do it when looking for a car. Hell even when im looking for a comfort cruiser with an auto, Ill still check out Boxsters, Type Rs and Super Sevens, Of course thats just me, Cant speak for everyone.
---
196ss 9y ago
@BR2
In that case you should choose F40, then sell it, and by 10 Challengers.
In reality there is no competition bitween this two. Someone who is going to by 25 years old classic Ferrari, would not even look at any Challenger (even with 1000hp).
Like NIN posted earlier this comparo was made just for fun, just to see Verdict change, when we would have performance figures for Hellcat
---

BR2+ 9y ago
Nothing wrong with that, I might choose it as well, That may be one of the greatest Ferraris, But that is one of the greatest Dodges, What simply because its a "Ferrari" means we should automatically like it?...
I completely agree with Shaggys choice on to why he would take it, And there are people who would take a Dart over a 600 Pullman, I would take a current generation Civic Type R over a 600 pullman.
---
Shaggy 9y ago
@FastestLaps: I know it sounds crazy, but the Dodge has a more aggressive engine and exhaust note, it has a proper trunk, it seats 5, doesn't cost $500,000.00, and it's easier to get it serviced, especially around where I live, I've never even seen a Ferrari around my stomping grounds. I do love the Ferrari, I honestly think the F40 is one of the greatest automobiles ever made, but having a Ferrari around my neck of the woods would be having a Killer Whale in your swimming pool, it would seem awesome, but what the car needs to stay on the road can't be found here, a local mechanic would look at a Ferrari engine like a monkey doing a math problem The only Italian cars I see around here are Fiat 500s, and not even the Abarths either.
---
FastestLaps 9y ago
You would chose a freaking 2014 Challenger over a half mil Ferrari classic supercar, one of the best Ferraris ever made?
Thats like choosing 2014 Dodge Dart or something over 1960s Mercedes 600 Pullman, because Dart is just as fast lol
---
---
---

---
---