Audi R8 V10 Plus vs BMW M4 GTS vs Porsche 911 R vs Mercedes-Benz AMG GT R
| Category | 911 R | BMW M4 GTS | AMG GT R | R8 V10 |
| --- | --- | --- | --- | --- |
| Engine layout | B6 | R6 | V8 | V10 |
| Max power (ps) | 500 | 500 | 585 | 610 |
| Max torque (Nm) | 460 | 600 | 700 | 560 |
| Curb weight (kg) | 1396 | 1600 | 1635 | 1637 |
| Power / tonne (ps) | 358 | 313 | 358 | 373 |
| Average price (€) | 199k | 152k | 177k | 196k |
Acceleration (kph)
| Speed & distance | 911 R | BMW M4 GTS | AMG GT R | R8 V10 |
| --- | --- | --- | --- | --- |
| 0 - 50 kph | 1.7 s | 1.6 s | 1.4 s | 1.2 s |
| 0 - 60 kph | 1.9 s | 2.0 s | 2.1 s | 1.5 s |
| 0 - 100 kph | 3.6 s | 3.7 s | 3.2 s | 2.8 s |
| 0 - 130 kph | 5.3 s | 5.4 s | 4.7 s | 4.3 s |
| 0 - 160 kph | 7.6 s | 7.8 s | 6.6 s | 5.9 s |
| 0 - 180 kph | 10.3 s | 10.0 s | 9.1 s | 7.5 s |
| 0 - 200 kph | 10.7 s | 11.5 s | 9.8 s | 9.1 s |
| 0 - 250 kph | 17.8 s | 21.6 s | 17.1 s | 15.4 s |
| 1000 m | 20.5 s | 21.5 s | 19.9 s | 19.4 s |
| 60 - 100 kph (4) | 4.3 s | 3.3 s | 2.4 s | 2.8 s |
| 60 - 100 kph (5) | 5.5 s | 4.9 s | 3.1 s | 3.8 s |
| 80 - 120 kph (5) | 5.6 s | 4.0 s | 3.0 s | 3.6 s |
| 80 - 120 kph (6) | 7.2 s | 5.6 s | 3.8 s | 4.9 s |
General performance
| Category | 911 R | BMW M4 GTS | AMG GT R | R8 V10 |
| --- | --- | --- | --- | --- |
| Top speed | 323 kph | 306 kph | 319 kph | 333 kph |
| Est. 0 - 100 mph - 0 | 11.4 s | 11.7 s | 10.8 s | 10.5 s |
| Est. max acceleration | 0.77 g | 0.76 g | 0.87 g | 1.02 g |
| 18m slalom | 72.8 kph | 72.3 kph | 73.2 kph | 72.4 kph |
| Fuel economy | 13.0 l/100 km | 9.7 l/100 km | 11.0 l/100 km | 10.0 l/100 km |
| Lateral acceleration | 1.11 g | 1.07 g | 1.14 g | 1.01 g |
| 100 kph - 0 | 31 m | 31 m | 30 m | 31 m |
| 200 kph - 0 | 118 m | 119 m | 115 m | 119 m |
Summary
| Category | 911 R | BMW M4 GTS | AMG GT R | R8 V10 |
| --- | --- | --- | --- | --- |
| Track Performance | 271 | 267 | 300 | 266 |
| Straight line speed | 1736 | 1822 | 2349 | 2590 |
| Total | 2007 | 2089 | 2649 | 2856 |
Verdict
R8 V10 Plus is the fastest by a small margin.
This comparison has been viewed 6.1k times.
Acceleration graph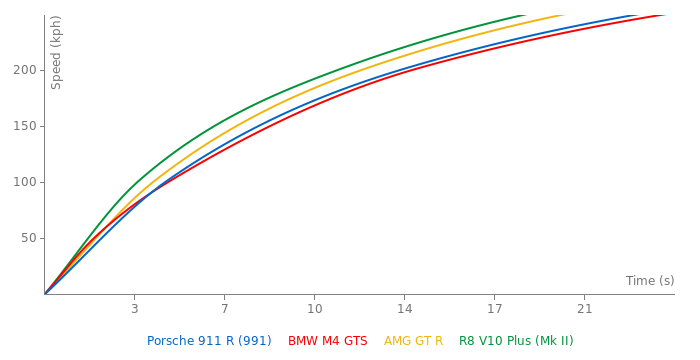 ---
hostboy 7y ago
I can't believe the R8 V10+ has the quickest 0-60 time of this league yet its 2mph gap to 100 km/h is 0.2 seconds slower!! Probably because the other cars are capable of doing 0-60 in under 3 seconds (even though they have rear-wheel-drive) with a professional, long-time-experiencing drag racer (especially the 911 R since it has a manual transmission with gear ratios of a typical 600+hp American muscle car, making it able to reach 60+mph in first gear).