Ford Focus ST vs Honda Civic Type R
| Category | Ford Focus ST | Honda Civic Type R |
| --- | --- | --- |
| Max power (ps / bhp) | 225 / 222 | 200 / 197 |
| Max torque (Nm / lb-ft) | 320 / 236 | 196 / 145 |
| Curb weight (kg / lb) | 1392 / 3069 | 1239 / 2732 |
| Power / tonne (ps / bhp) | 162 / 159 | 161 / 159 |
Performance
| Category | Ford Focus ST | Honda Civic Type R |
| --- | --- | --- |
| 0 - 100 kph | 6.5 s | 6.6 s |
| Est. 0 - 60 mph | 6.0 s | 6.2 s |
| 0 - 100 mph | 15.7 s | 16.0 s |
| Est. 1/8 mile | 10.3 s @ 82.6 mph | 10.2 s @ 82.0 mph |
| Top speed | 241 kph (150 mph) | 235 kph (146 mph) |
Summary
| Category | Ford Focus ST | Honda Civic Type R |
| --- | --- | --- |
| Track Performance | 472 | 497 |
| Straight line speed | 497 | 473 |
| Total | 970 | 970 |
Verdict
There is no clear winner in this comparison.
This comparison has been viewed 2.2k times.
Acceleration graph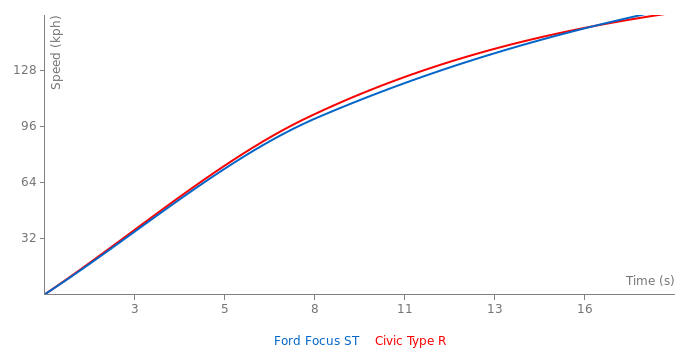 benedekpuskas 2y ago
Track Performance 472
Straight line speed 397
Total 870
472+397= 870? How?
---
FastestLaps 2y ago
Individual scores were rounded down, but sum of those two rounded fractions was over 0.5 and was rounded up.