Mercedes-Benz A 45 AMG vs Honda Civic Type R
| Category | Honda Civic Type R | A 45 AMG |
| --- | --- | --- |
| Max power (ps / bhp) | 310 / 306 | 360 / 355 |
| Max torque (Nm / lb-ft) | 400 / 295 | 450 / 332 |
| Curb weight (kg / lb) | 1401 / 3089 | 1370 / 3020 |
| Power / tonne (ps / bhp) | 221 / 218 | 263 / 259 |
Performance
| Category | Honda Civic Type R | A 45 AMG |
| --- | --- | --- |
| 0 - 40 kph | 2.0 s | 1.3 s |
| 0 - 80 kph | 3.8 s | 3.1 s |
| 0 - 100 kph | 5.2 s | 4.4 s |
| 0 - 180 kph | 15.0 s | 12.8 s |
| 0 - 200 kph | 20.1 s | 16.9 s |
| Est. 100 - 200 kph | 15.0 s | 12.5 s |
| 0 - 60 mph | 5.4 s | 4.2 s |
| 0 - 100 mph | 12.4 s | 10.0 s |
| Est. 1/8 mile | 9.8 s @ 87.6 mph | 8.9 s @ 95.7 mph |
| 1/4 mile | 13.5 s | 12.6 s |
| Top speed | 270 kph (168 mph) | 250 kph (155 mph) |
| Est. max acceleration | 0.50 g (5 m/s²) | 0.79 g (8 m/s²) |
Summary
| Category | Honda Civic Type R | A 45 AMG |
| --- | --- | --- |
| Track Performance | 683 | 673 |
| Straight line speed | 778 | 1105 |
| Total | 1461 | 1778 |
Verdict
A 45 AMG is the fastest by a small margin.
This comparison has been viewed 1.1k times.
Acceleration graph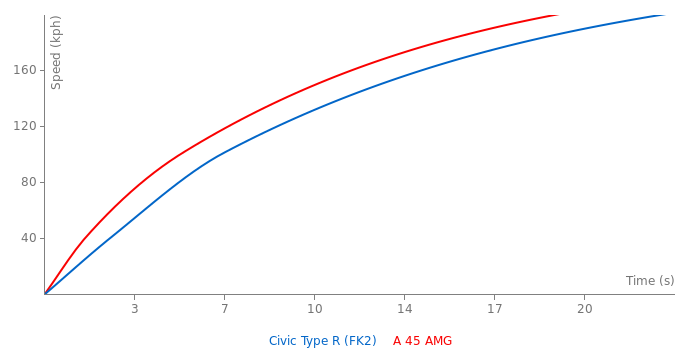 Ego15 2m ago
Amg is faster on slow tracks, type R wins on the fast ones........ you choose which is better.
---
Nick Harry 4y ago
Oh, and not to mention the 30+ mpg of the Type R compared with @ 23mpg for the Merc?
---
Nick Harry 4y ago
But the Type R wins 5-4 in track battles and by 20 seconds on the Nurburgring( which, even allowing for SOME shenanigans is quite a margin). Factor in the massive price difference.....