Ferrari 360 Modena vs Porsche 911 Turbo
| Category | Ferrari 360 Modena | Porsche 911 Turbo |
| --- | --- | --- |
| Engine layout | 3.6 l V8 | 3.6 l B6 |
| Max power (ps / bhp) | 400 / 395 | 420 / 414 |
| Max torque (Nm / lb-ft) | 373 / 275 | 560 / 413 |
| Curb weight (kg / lb) | 1440 / 3175 | 1577 / 3477 |
| Power / tonne (ps / bhp) | 278 / 274 | 266 / 263 |
Acceleration
| Speed & distance | Ferrari 360 Modena | Porsche 911 Turbo |
| --- | --- | --- |
| 0 - 40 kph | 1.6 s | 1.2 s |
| 0 - 60 kph | 2.4 s | 2.0 s |
| 0 - 80 kph | 3.5 s | 3.2 s |
| 0 - 100 kph | 4.3 s | 4.0 s |
| 0 - 120 kph | 6.6 s | 6.0 s |
| 0 - 130 kph | 7.3 s | 6.8 s |
| 0 - 140 kph | 8.2 s | 7.5 s |
| 0 - 160 kph | 10.2 s | 9.3 s |
| 0 - 180 kph | 12.9 s | 11.9 s |
| 0 - 200 kph | 15.2 s | 13.7 s |
| 0 - 220 kph | 20.8 s | 18.9 s |
| 0 - 240 kph | 27.5 s | 23.2 s |
| 0 - 260 kph | 35.4 s | 29.7 s |
| 0 - 280 kph | 49.8 s | 44.1 s |
| 1000 m | 22.8 s @ 236.0 kph | 22.6 s |
| 0 - 30 mph | 1.9 s | 1.5 s |
| 0 - 60 mph | 4.3 s | 3.9 s |
| 0 - 100 mph | 8.9 s | 8.9 s |
| Est. 1/8 mile | 8.9 s @ 95.1 mph | 8.6 s @ 97.6 mph |
| 1/4 mile | 12.4 s | 11.9 s @ 116.2 mph |
Rolling acceleration
| Speed | Ferrari 360 Modena | Porsche 911 Turbo |
| --- | --- | --- |
| 60 - 100 kph (4) | 4.7 s | 3.9 s |
| 60 - 100 kph (5) | 6.7 s | 5.6 s |
| 80 - 120 kph (5) | 6.0 s | 4.5 s |
| 80 - 120 kph (6) | 9.1 s | 6.1 s |
| Est. 100 - 140 kph | 3.7 s | 3.4 s |
| Est. 100 - 200 kph | 11.6 s | 10.3 s |
Braking distance
| Speed | Ferrari 360 Modena | Porsche 911 Turbo |
| --- | --- | --- |
| 50 kph - 0 | 11 m (36 ft) | 11 m (36 ft) |
| 60 kph - 0 | 17 m (56 ft) | 14 m (46 ft) |
| 100 kph - 0 | 36 m (117 ft) | 35 m (116 ft) |
| 120 kph - 0 | 65 m (213 ft) | 52 m (171 ft) |
General performance
| Category | Ferrari 360 Modena | Porsche 911 Turbo |
| --- | --- | --- |
| Top speed | 296 kph (184 mph) | 307 kph (191 mph) |
| 0 - 100 mph - 0 | 13.5 s | 13.7 s |
| Est. max acceleration | 0.68 g (7 m/s²) | 0.73 g (7 m/s²) |
| 18m slalom | 65.6 kph (40.8 mph) | 68.6 kph (42.6 mph) |
| 36m slalom | 126.3 kph (78.5 mph) | 128.3 kph (79.7 mph) |
| Fuel economy | 11.8 l/100 km (20 mpg US / 24 UK) | 9.8 l/100 km (24 mpg US / 29 UK) |
Summary
| Category | Ferrari 360 Modena | Porsche 911 Turbo |
| --- | --- | --- |
| Track Performance | 688 | 690 |
| Straight line speed | 3166 | 4173 |
| Total | 3853 | 4863 |
Verdict
911 Turbo is the fastest by considerable margin.
This comparison has been viewed 3.8k times.
Acceleration graph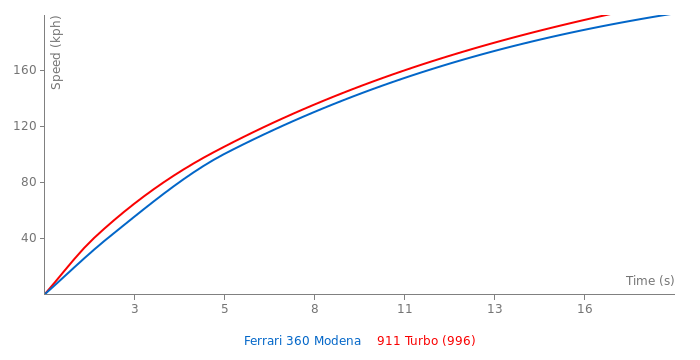 ---
Big Chick 12y ago
Most people think that ferrari's are better than Porsche but it's not true.911's are the best.
Ferrari 265 - Porsche 328
---
196ss 10m ago
Hmm, it looks like in this particular case Modena is faster on the tracks, Turbo got defeated 4 times out of 7.
Interestingly, that Ferrari was faster on tracks outside of Europe, and Porsche was faster at Sport Auto tracks (which is not surprising), as well as on the Vairano track, which is very tight and known to be more suitable for AWD.
At the straight however Turbo is faster, no competition.