Chevrolet Corvette Z06 vs Porsche 911 GT3 RS vs Dodge Viper ACR
| Category | Viper ACR | 911 GT3 RS | Corvette Z06 |
| --- | --- | --- | --- |
| Max power (ps) | 654 | 500 | 659 |
| Max torque (Nm) | 813 | 458 | 881 |
| Curb weight (kg) | 1539 | 1467 | 1610 |
| Power / tonne (ps) | 425 | 341 | 409 |
| Average price (€) | 179k | 192k | 128k |
Acceleration (mph)
| Speed & distance | Viper ACR | 911 GT3 RS | Corvette Z06 |
| --- | --- | --- | --- |
| 0 - 30 mph | 1.6 s | 1.2 s | 1.3 s |
| 0 - 40 mph | 2.3 s | 1.6 s | 1.7 s |
| 0 - 50 mph | 2.9 s | 2.2 s | 2.3 s |
| 0 - 60 mph | 3.3 s | 3.0 s | 3.0 s |
| 0 - 70 mph | 4.4 s | 3.7 s | 3.8 s |
| 0 - 80 mph | 5.2 s | 4.6 s | 4.7 s |
| 0 - 90 mph | 6.1 s | 5.7 s | 5.6 s |
| 0 - 100 mph | 7.4 s | 6.8 s | 6.8 s |
| 0 - 110 mph | 8.9 s | 8.3 s | 8.1 s |
| 0 - 120 mph | 10.6 s | 9.8 s | 9.6 s |
| 0 - 130 mph | 12.3 s | 11.7 s | 11.9 s |
| 0 - 140 mph | 14.3 s | 14.1 s | 14.5 s |
| 0 - 150 mph | 18.3 s | 16.9 s | 17.1 s |
| Est. 1/8 mile | 8.2 s | 7.8 s | 8.0 s |
| 1/4 mile | 11.5 s | 11.1 s | 11.1 s |
Acceleration (kph)
| Speed & distance | Viper ACR | 911 GT3 RS | Corvette Z06 |
| --- | --- | --- | --- |
| 0 - 50 kph | 2.1 s | 1.4 s | 1.4 s |
| 0 - 100 kph | 4.0 s | 3.3 s | 3.2 s |
| 0 - 130 kph | 5.6 s | 5.0 s | 4.8 s |
| 0 - 160 kph | 7.9 s | 7.0 s | 6.7 s |
| 0 - 180 kph | 9.4 s | 9.0 s | 8.6 s |
| 0 - 200 kph | 11.8 s | 10.8 s | 10.2 s |
| Est. 100 - 200 kph | 7.8 s | 7.7 s | 7.7 s |
General performance
| Category | Viper ACR | 911 GT3 RS | Corvette Z06 |
| --- | --- | --- | --- |
| Top speed | 285 kph | 311 kph | 315 kph |
| Est. 0 - 100 mph - 0 | 12.9 s | 10.7 s | 10.9 s |
| Est. max acceleration | 0.76 g | 0.90 g | 0.83 g |
| Fuel economy | 16.6 l/100 km | 14.3 l/100 km | 13.5 l/100 km |
| Lateral acceleration | 1.15 g | 1.09 g | 1.19 g |
Summary
| Category | Viper ACR | 911 GT3 RS | Corvette Z06 |
| --- | --- | --- | --- |
| Track Performance | 498 | 444 | 476 |
| Straight line speed | 2369 | 3003 | 3226 |
| Total | 2867 | 3447 | 3701 |
Verdict
Corvette Z06 is the fastest by a small margin.
This comparison has been viewed 15.4k times.
Acceleration graph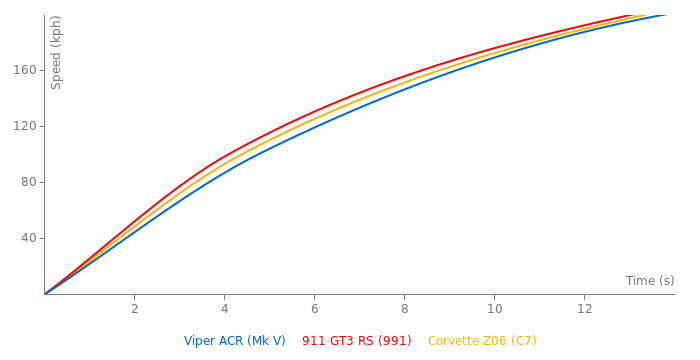 ---
---

Aaron 7m ago
And even the ZR1 wasn't designed to go after the Viper ACR on track, but was supposed to be kind of a mid-range between the Mclaren 675lt and Viper ACR. Slightly slower in a straight line but more track focussed than the 600lt, Quicker in a straight lint but less track focussed than the ACR.